With the interactive quiz sticker, Instagram offers your brand a great opportunity to add a highly engaging game element to your story. Let's take a closer look at why the sticker is so useful for businesses and how you can use it to help your brand.
Engagement on social media has moved to the center of attention for individuals and businesses alike because high engagement rates make it easier to monetize a social media presence.
Subsequently, with more than one billion monthly users and a high engagement rate that surpassed Facebook already in 2018, Instagram has become increasingly more important for businesses. Currently, there are more than 25 million businesses on Instagram, and 90% of people on Instagram follow at least one business profile.
For most companies, the math from these numbers is simple: more users means more interactions, and more interactions means more chances for users to discover a business and become customers.
In order to push engagement and help businesses, Instagram also keeps rolling out new tools, such as Instagram Stories. From its launch in 2016, its popularity skyrocketed to more than 500 million daily users by 2019.
At the same time, this means that businesses are now competing with many other brands for attention in the story carousels of their followers. This is where the interactive stickers come in. They add to stories an additional engagement element that can be very valuable for your business.
In fact, the Instagram algorithm ranks story engagement. The more people interact with your story, the further up your stories will move in users' story carousels. More exposure means more followers and more chances for your business to grow.
So, let's look at how you can use the quiz sticker to help your business.
Curiosity triggers engagement
The interactive quiz sticker lets you set up a quiz for your story, where you set up the questions and provide possible answers. When your fans view your story, they can guess the correct answer by simply tapping on one of the options. After they select an answer, they will see if they were correct or not.
In many ways, the quiz sticker is similar to the question sticker or the poll sticker, but also stands out in comparison. First, it plays with the user's curiosity, and curiosity is a high motivator for engagement. It is in fact very hard not to engage with a quiz, as most people probably want to know the right answer.
Not knowing the correct answer right away also adds an element of competitiveness and surprise to a story that other stickers don't have.
It can also feel very satisfying to guess an answer correctly. It will make users feel accomplished, and at the same time, they will connect this positive experience with your brand.
Since they are a fun and highly interactive feature, adding a quiz sticker offers your brand many opportunities to engage with your customers and grow your business.
Gather business insights
Market research is time-consuming and expensive. Small businesses usually don't have the resources to gather extensive consumer data. With the quiz sticker on Instagram Stories, your business now gets a free tool to find out more about your customers.
Depending on how you phrase your quiz question. you can use it to find out more about your customers' habits. As a make-up brand, you could ask them what beauty products they can't live without, and gather valuable insights about their beauty routine from their answers.
Alternatively, by quizzing your followers about your products, you can learn what they know about your brand, or what products you could push more in the future.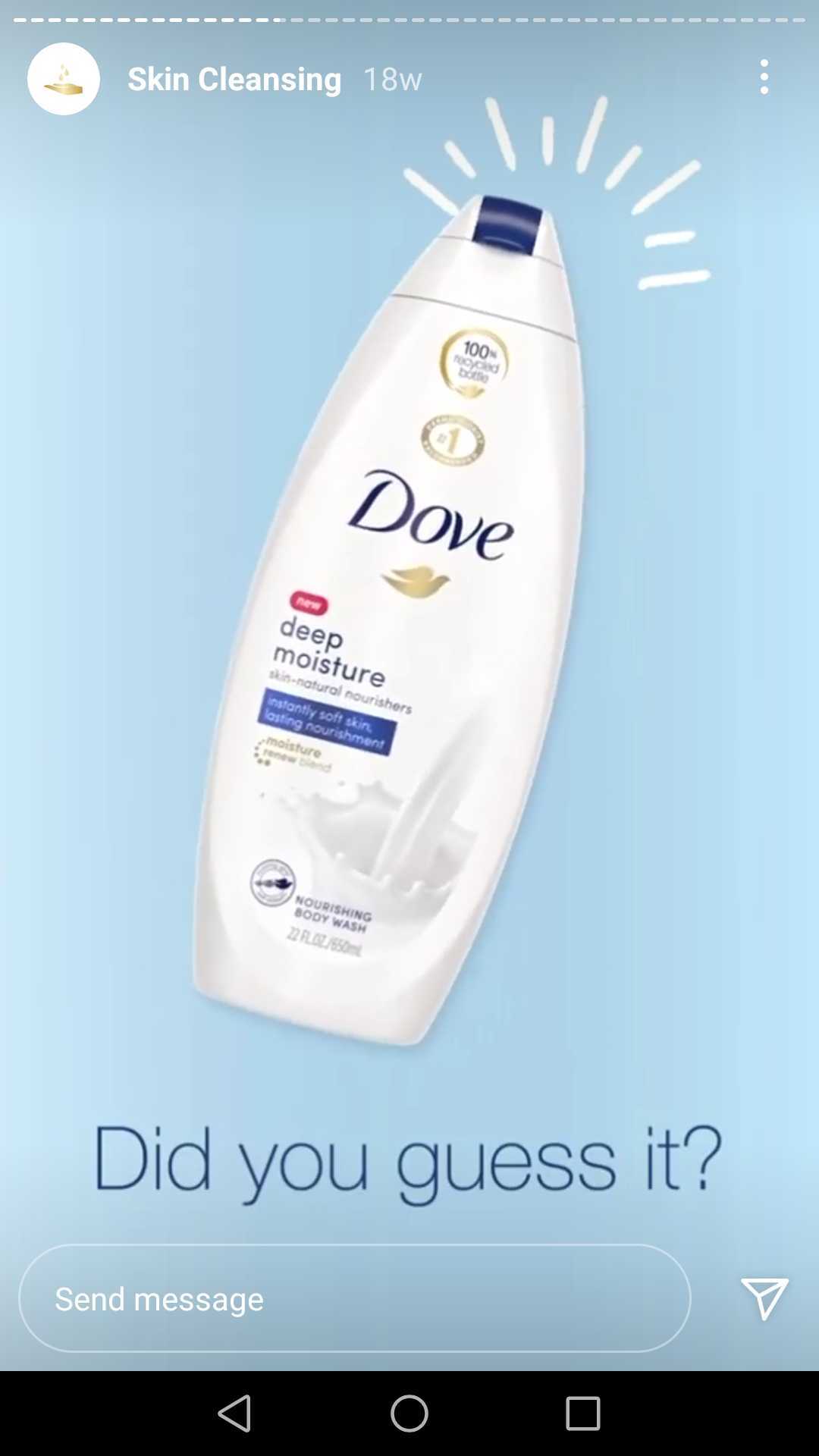 Educate your fans about your brand
Use the quiz sticker to let your followers get to know you better by asking them questions about your brand.
Surveys show that consumers are more willing to purchase something from a brand if they are more familiar with the company.
The candy brand Snickers, for example, decided to take their followers on a tour around the United States to show them the origin of the different ingredients in their chocolate bar. However, instead of just posting pictures of different states, Snickers used quiz stickers to have their fans guess the locations, which made it more fun and easier to remember.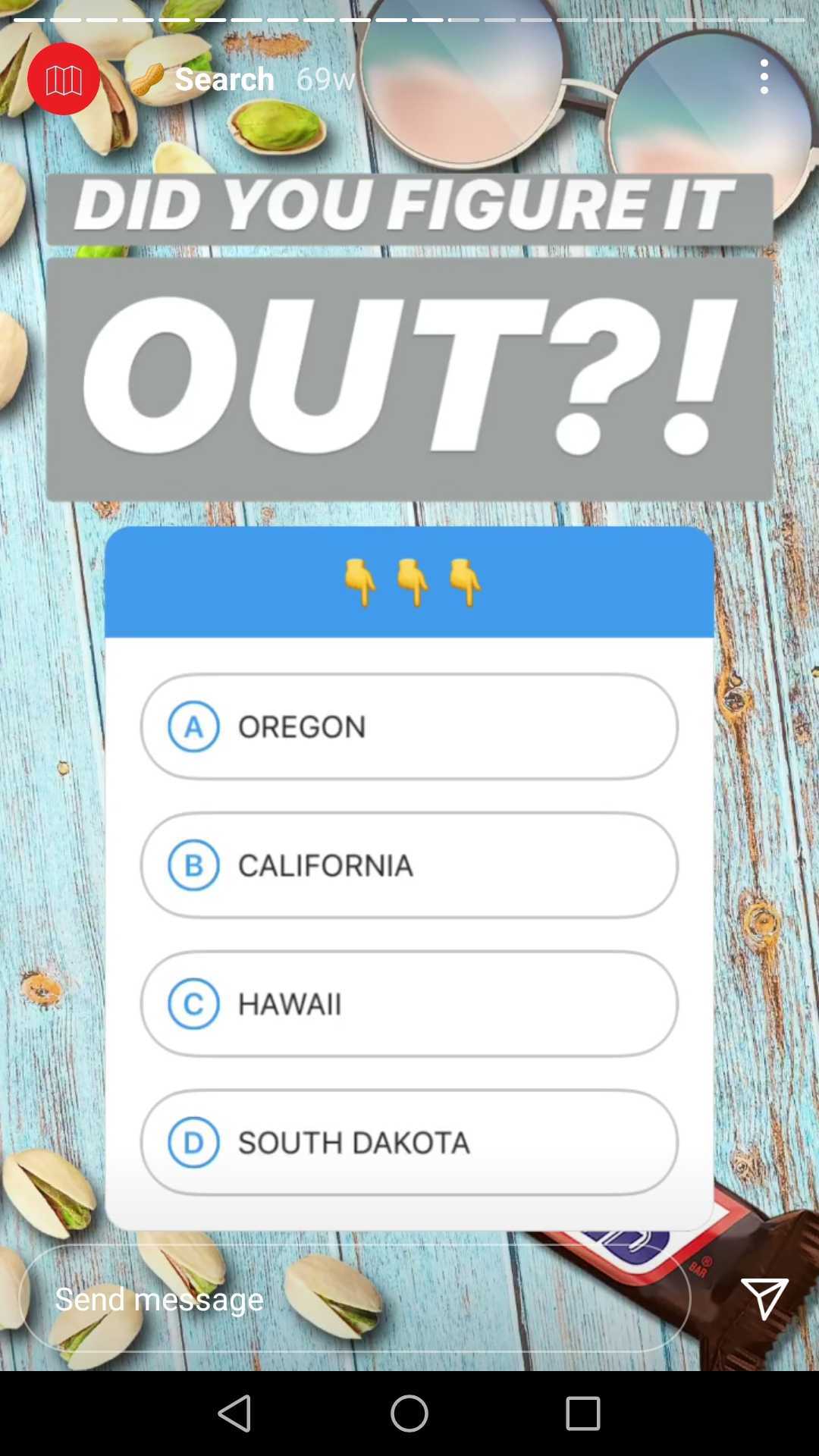 If your brand or organization deals with issues that are harder to illustrate, a quiz sticker can help you make that information more accessible to a larger audience. NASA, for example, works with the quiz sticker to educate their followers about their technology and their different missions.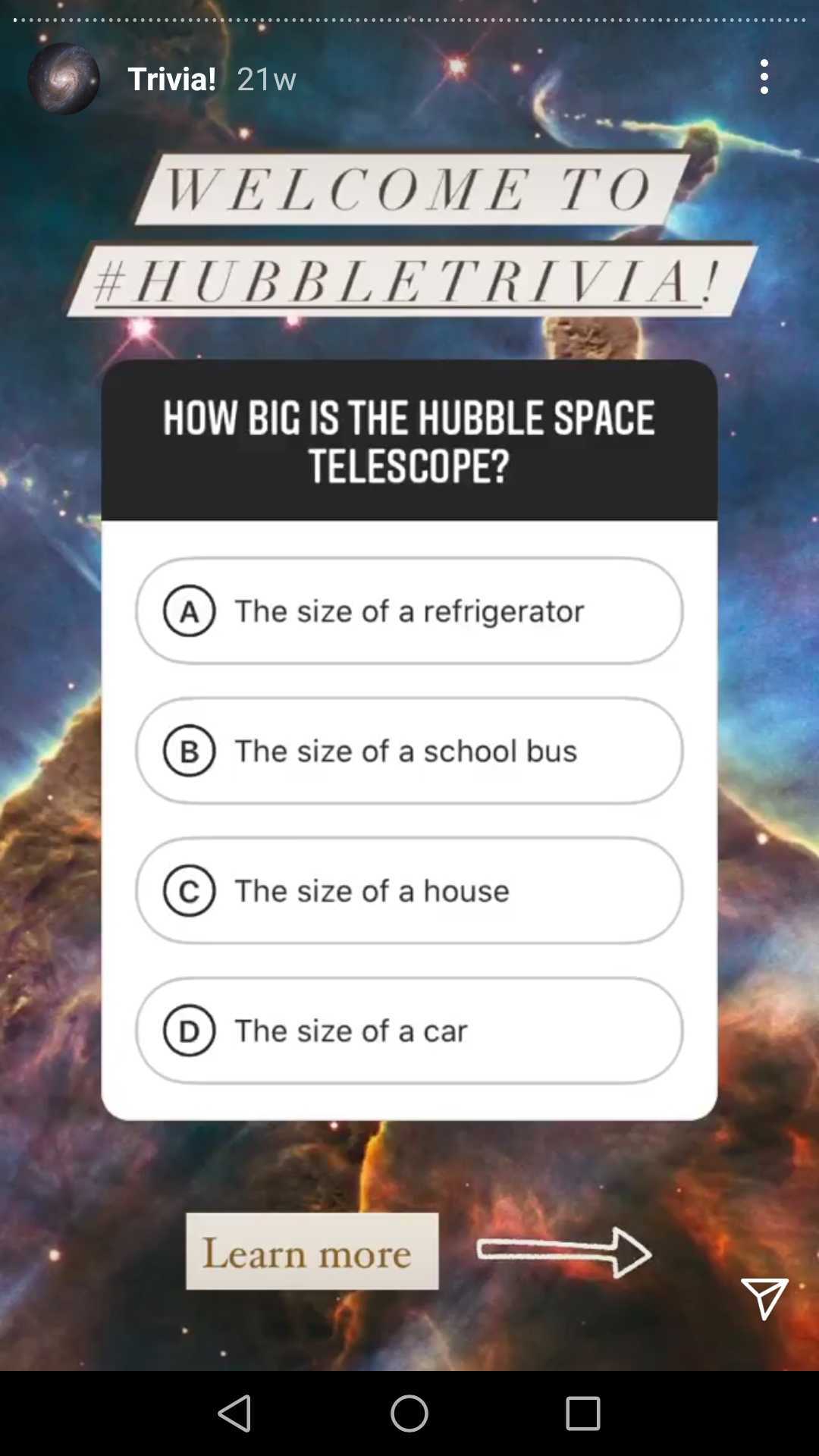 Offer promotions to gain new customers
If you want to take the game element of the quiz sticker and go all the way with it, you can offer your followers a prize, such as a gift or discount if they answer your questions correctly. This will definitely drive engagement and increase the visibility of your brand.
Feature new products
You can obviously always post pictures or videos of a new product in your Instagram feed. Using Instagram Stories and integrating a quiz sticker will however generate a little more buzz around it. As a bookstore, you could ask your audience: "Which one of our new publications will you read first?" to promote new arrivals in a more fun way. Lego, for example, came up with a fun quiz when they first launched their Mandalorian set.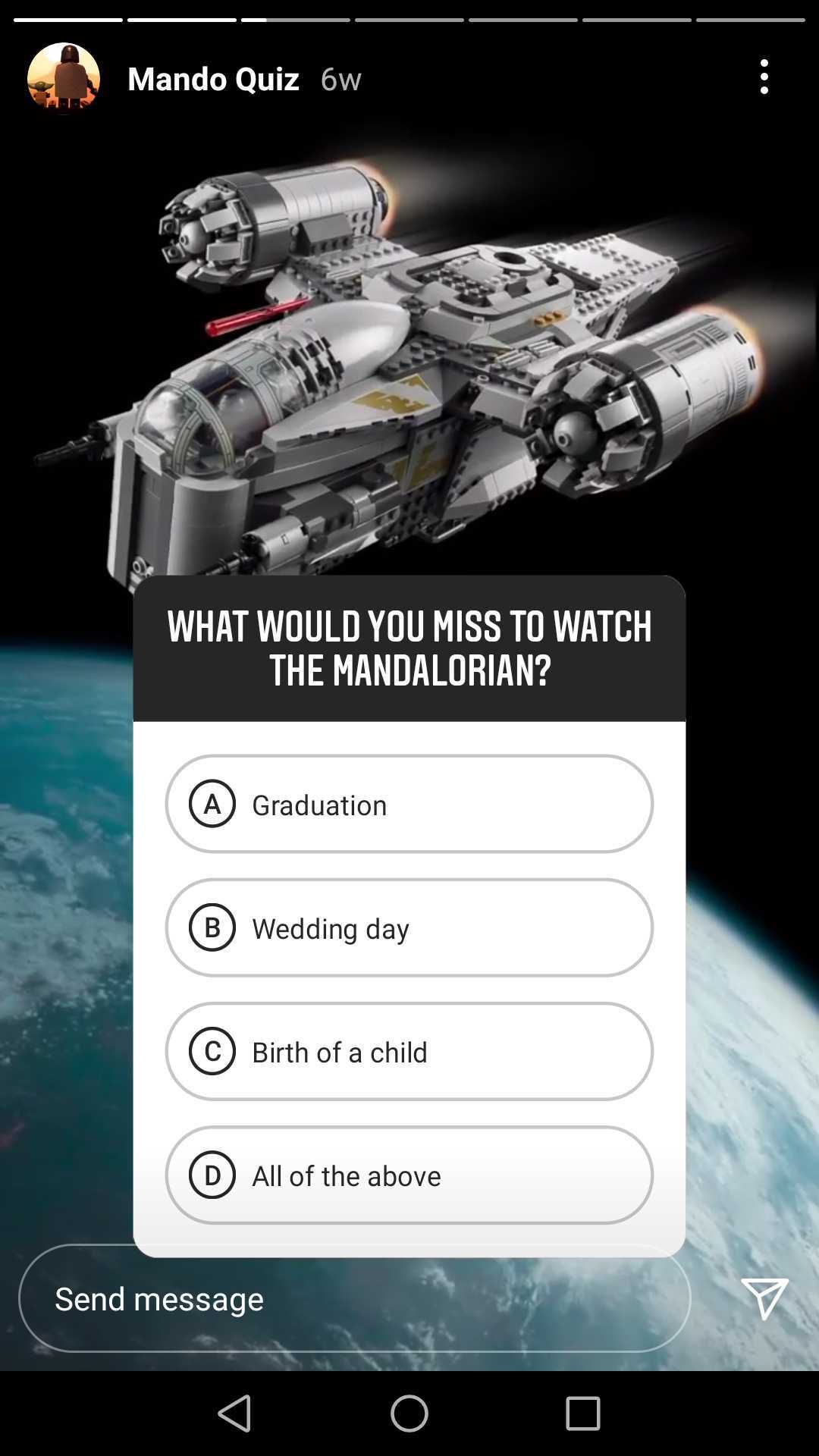 Share user-generated content to increase engagement
User-generated content usually shows higher interaction rates, so why not combine it with a quiz sticker to increase engagement even further? As a food brand, you could ask your fans to send you pictures of their favorite dishes, and then have other users guess the names of the dishes. While this doesn't directly promote your services or products, it does get your name out there very quickly and can really help your brand grow.
Create a quiz on Instagram Stories with Storrito
Creating effective and engaging social media posts for your business is nothing that happens on the fly. It usually takes a lot of time and effort, and a whole team to come up with creative ideas that will not only get your fans engaged, but also help you achieve your business goals.
You could do this all by yourself on the small screen of your smartphone. Ideally though, for the best results, you would have a planning tool that allows you to upload and edit posts on a larger desktop, schedule them to best fit your time frame, and work on them with your team.

Meet Storrito, the collaborative Instagram Stories planning tool that allows you to do just that. You still have access to all the Stories features you know and love from the app, including interactive stickers, but Storrito makes editing and planning your stories a whole lot easier. Just get started and find out how you can use Storrito to add interactive stickers to your Instagram story.