Do you want to grow your following on Instagram? Connect more with your fans? Improve engagement? Then you should consider adding more GIFs to your Instagram stories! It's fun, easy, and can really boost your brand.
Adding GIFs to your Instagram stories is a fantastic way to give your content more character, capture your audience's attention, and have fun while you're at it. When businesses use GIFs as part of an Instagram marketing strategy, they not only make their stories more engaging and captivating — they also help build a more memorable personality for their brand.
Adding GIFs to Instagram Stories
In 2018, Instagram partnered with GIPHY to build a library of GIFs for Stories. Accessing them is as easy as adding any other element to your story.
Just tap the sticker symbol when creating a new story, and then look for the "search GIF" option in the drop-down menu. Read our step-by-step tutorial to guide you through the process.
Once you open the GIF option, hundreds of animations will pop up that you can add to your story right away.
How businesses benefit from GIFs on Instagram Stories
While GIFs might seem silly at first, including them in your stories will have some serious benefits for your brand.
On social media, GIFs are a language of their own. Some people even communicate using just GIFs. Why? Because they are fun, and because one GIF can say more than a thousand words. In fact, in a survey, 36% of millennials said that GIFs communicate their thoughts better than words.
GIFs are great for expressing emotional cues, and they add context to your content. In other words, GIFs can make your stories richer, more fun, and more engaging.
Adding GIFs to your stories will help you connect with your audience on an emotional level. As a fun element, they also let your brand's personality come through more clearly.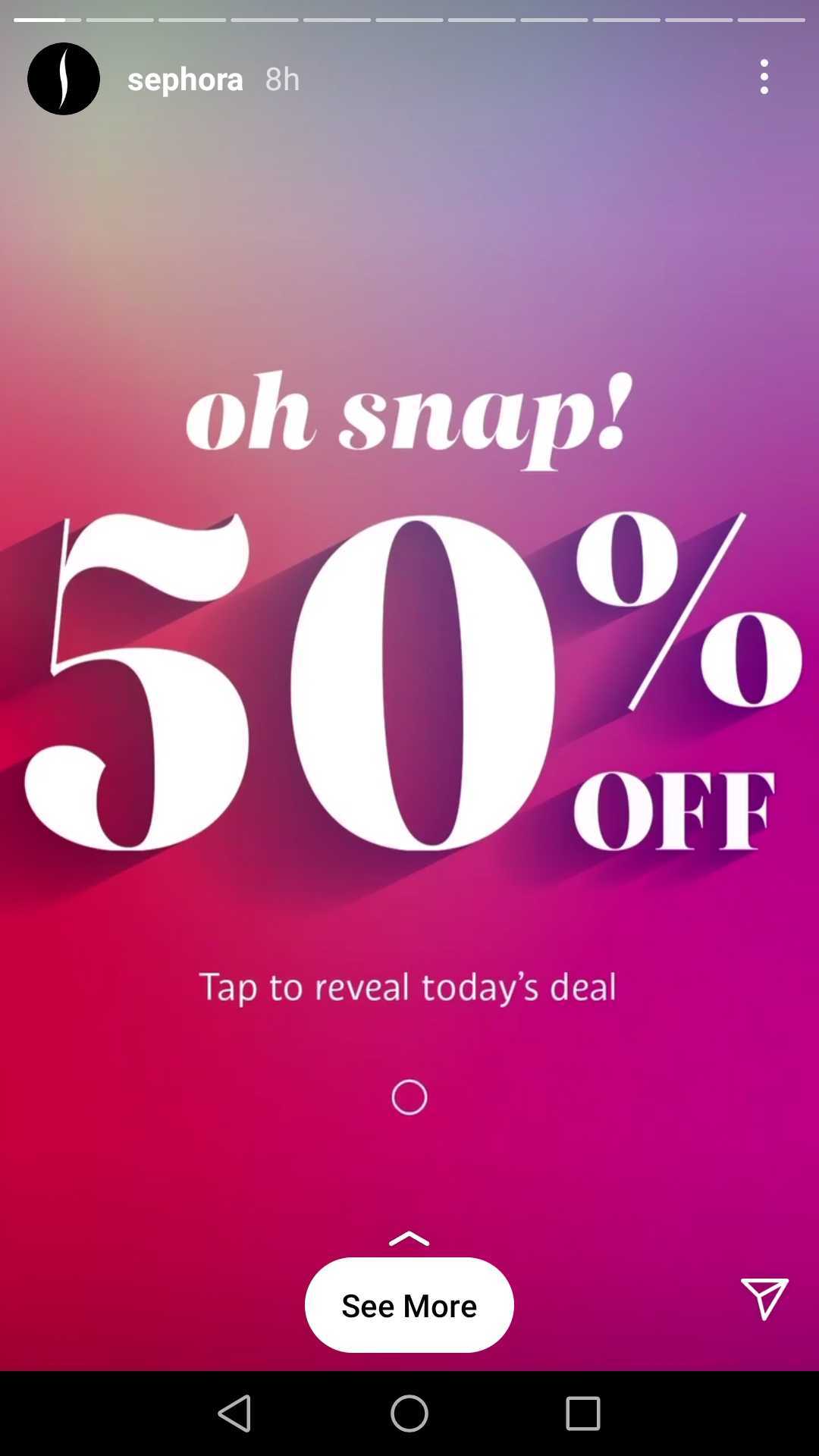 Since GIFs keep viewers interested, they improve engagement and can help you grow your following. And finally, they can also save you time. Instead of creating complicated animations or graphics, you can just throw in a GIF.
So, how do you choose the best GIFs for your stories? We've put together a few ideas to help you get inspired.
Use animations to guide your audience
GIFs look like they're all fun and games, but they're a seriously helpful marketing tool when you consider how good animations are at directing viewers' attention.
Animations don't have to be complicated — in fact, the simpler, the better. There are countless arrows, signals, and cues in GIF format that you can add to your stories to highlight specific elements or tell your audience what they need to do.
Just search the GIF library by keywords, and you'll find all kinds of cool animations to help you instruct your followers to follow the link in your bio, turn on the sound, swipe to the next slide, and many more.
The massage company Massage Envy, for example, used a simple arrow to point out a dog that accidentally ran through one of their workout videos, which adds a fun element to the story without distracting from the content.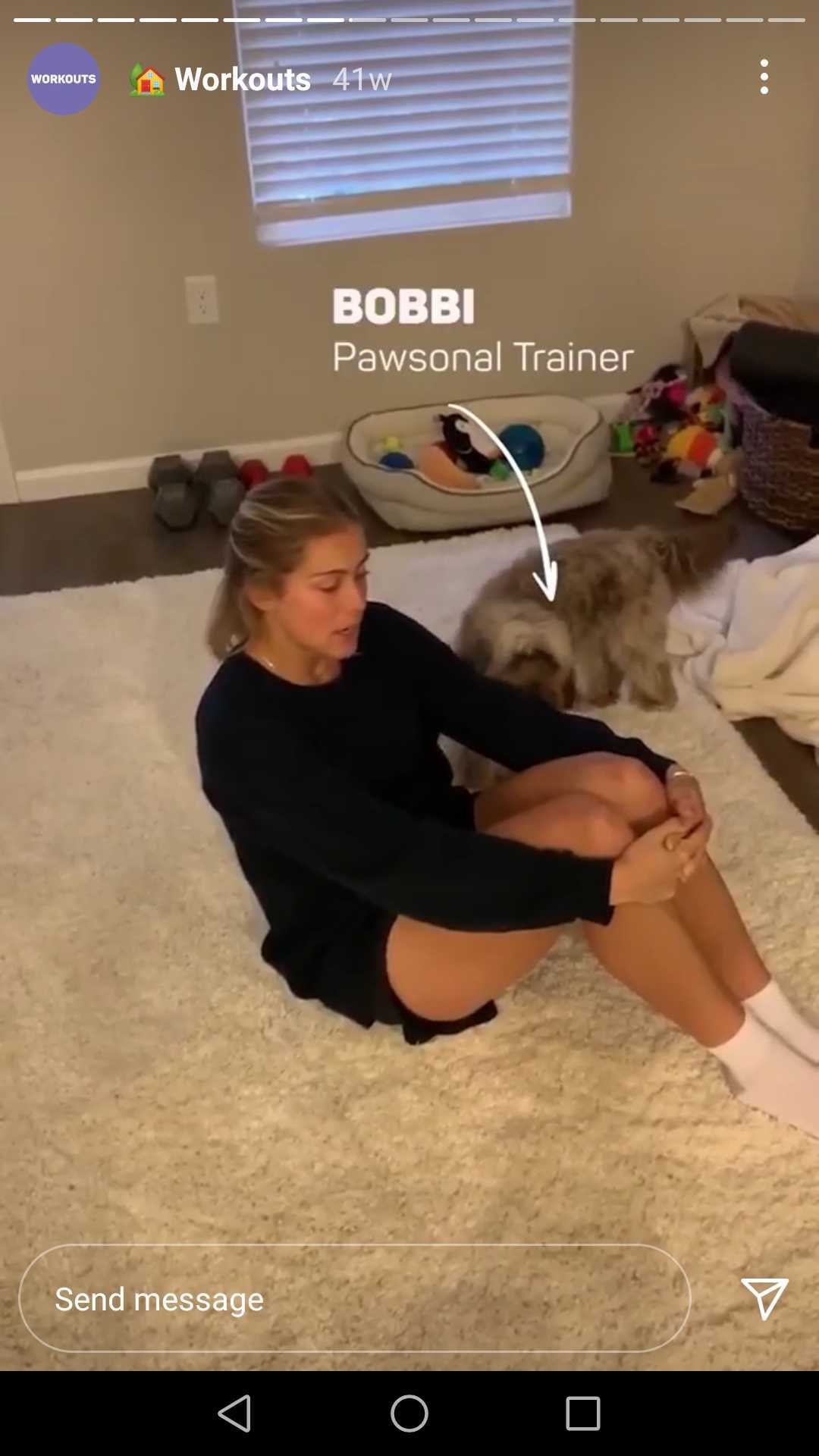 Add reaction GIFs to express yourself
On social media, GIFs are mostly used as reactions. Why not incorporate this into your stories as well? For example, when you are telling a story about a real life event, you can include a few GIFs as a reaction to something that happened to you.
It will make your content more lively and captivating. However, don't overdo it, otherwise it will get boring. Limit your reaction GIFs to one or a maximum of two per frame, and don't do it in every single story either, so it doesn't get too repetitive.
Hide GIFs in your video stories
Did you know that you can hide GIFs in video stories? By "pinning" a GIF in a video story, it will only appear at a set time in your video, so it can make for a great element of surprise.
In order to pin a GIF, just tap and hold the GIF and drop it where you want it to appear. You can use the scroll bar at the bottom to adjust the placement.
Draw inspiration from current events
The GIPHY library on Instagram Stories gets updated in real-time, so you'll have access to trending stickers the moment you tap to open the library. For example, you'll see the "Sunday Funday" animated sticker if you've opened the editing tray on a Sunday, and so on.
You'll also have access to a whole bunch of relevant stickers when important events or holidays approach. Use this to your advantage to help you create a bond with your followers over current events, like the oatmeal company Quaker did in their story for National Oatmeal Day.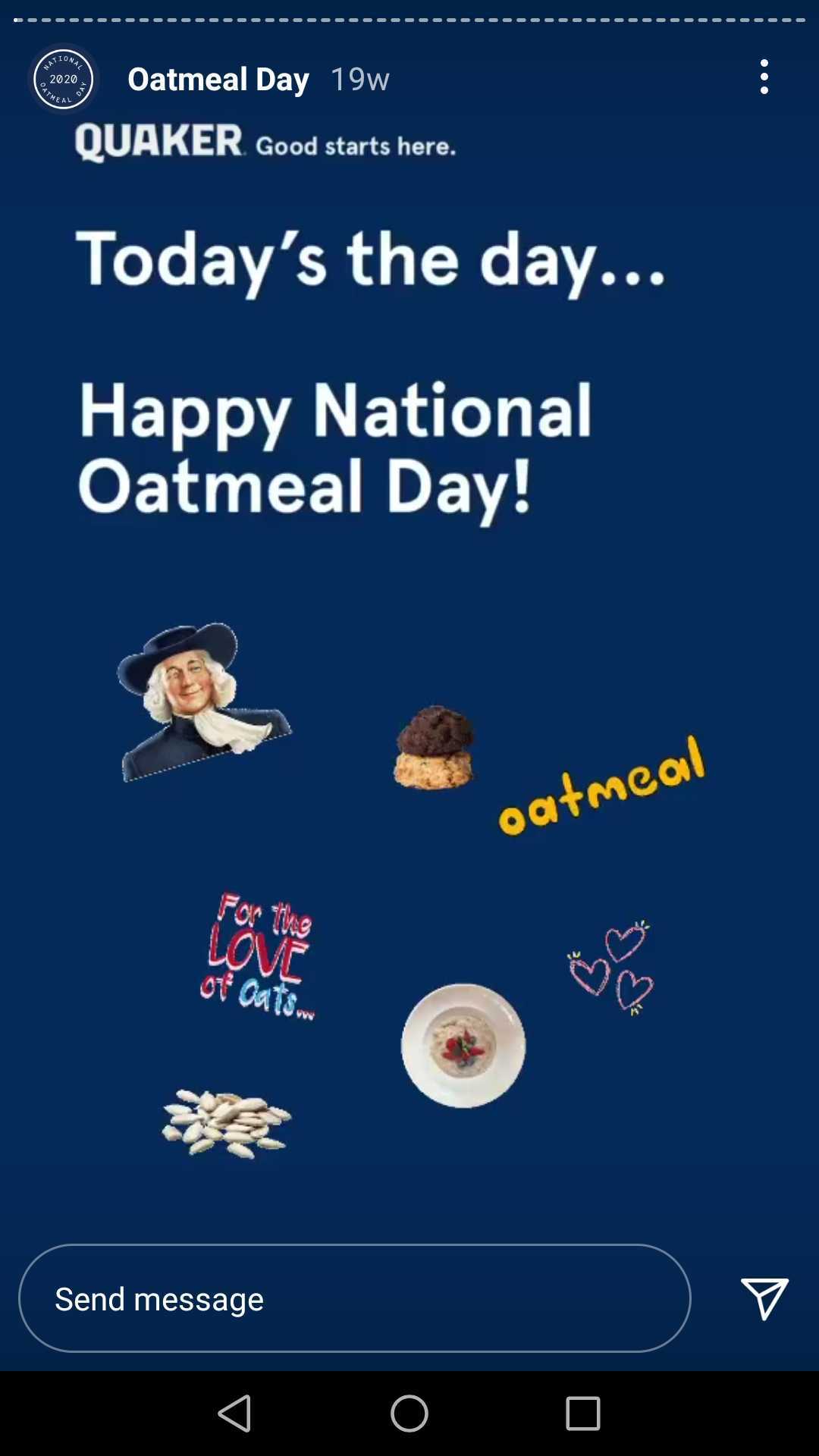 Combine animations with static images
GIFs are also a fantastic tool to create different effects and make your images come to life!
When you're designing your stories, you can adjust the elements you're adding as much as you like. For example, you can resize a GIF to get a miniature version or a version that stretches across the entire screen, or you can rotate them.
So, get creative and combine the animations with static images to add some magic or perhaps even tell a story. Think along the lines of sparkles, thought bubbles, confetti and so on. And don't ever post a plain old selfie again without adding a little something from the GIPHY library.
You can search "effects" in the GIPHY library and see what pops up. Don't forget to play around with the format to make your stickers complement the image as best as possible. Also, be careful about the composition— when you're designing your story, make sure the elements you're trying to highlight are clearly visible.
Add GIFs to text-only stories
Especially if the content you're posting is more on the wordy side, adding GIFs to your story will make it easier to digest.
Obviously, one of the primary rules of social media marketing is that you don't want to bore your audience with walls of text, but granted, sometimes you'll need a text-only story to make a point. Adding some animated stickers and GIFs will help you grab your followers' attention and make your wall of text seem like less of a chore and more like something they really want to read.
Again, head over to the library and see what's trending to add to your story design, or search for a GIF that is specifically related to the topic in the text. You'll be sure to find something amusing there, and you might even make yourself laugh.
If you'd rather keep it more straightforward and don't want to go all out, there's always the "effects" keyword to help you find some simple animations to highlight parts of the text.
Don't forget to have some fun
To wrap up — have fun with it! GIFs are there to have fun with, and the more creative you get with them, the more beneficial it will be to your brand presence.
So, don't hesitate to get a little silly every once in a while. A little personality goes a long way in building that cherished bond with your followers.
How to plan GIFs in advance with Storrito
As a brand, you most likely have a social content strategy that you plan out days or even weeks in advance. With Storrito, you can not only plan, edit, and schedule your stories directly from your computer; you can also access the GIF library, and add GIFs to your stories.
You simply access them through the Storrito Editor, which means you'll be able to add GIFs while you're preparing stories on your browser, then schedule the stories for auto-posting.
It's very easy, will save you a lot of time, and will really upgrade your Instagram stories. Try it out for free now!