If you haven't experimented with filters in your Instagram stories yet, it's about time you gave them a try. Filters can give a real boost to your content and increase engagement for your brand. Read our guide to find out what filters in Instagram Stories are, how to use them, and how they can help your brand.
You have probably seen the bunny ears or glitter in other people's Instagram Stories and maybe wondered: how do they do it? The secret behind these different effects is Instagram's filter effects.
Of course, talking to your audience while looking like the Easter Bunny or an alien might not seem like something you'd want to do to promote your business. However, there is a lot more to Instagram's filters than silly effects.
In fact, Instagram face filters are very versatile and can make your story stand out more. Filters can grab people's attention or add a certain mood to a story, which will make your content more fun and more engaging. You can even incorporate filters as part of your brand's visual language. So, don't be afraid to give them a try!
What are filters in Instagram Stories?
First off, filters in Instagram Stories are not the same thing as the filters you know from creating a regular post for your feed. The regular post filters are mostly colors or lights that you can add on top of your images to give them a different look or feel. The filters in Instagram Stories go way beyond that.
They use augmented reality (AR) to add a visual effect to your photos or videos. So instead of just sharing a plain selfie, you can make it more fun by adding in puppy ears, sunglasses, or moving effects such as falling snowflakes.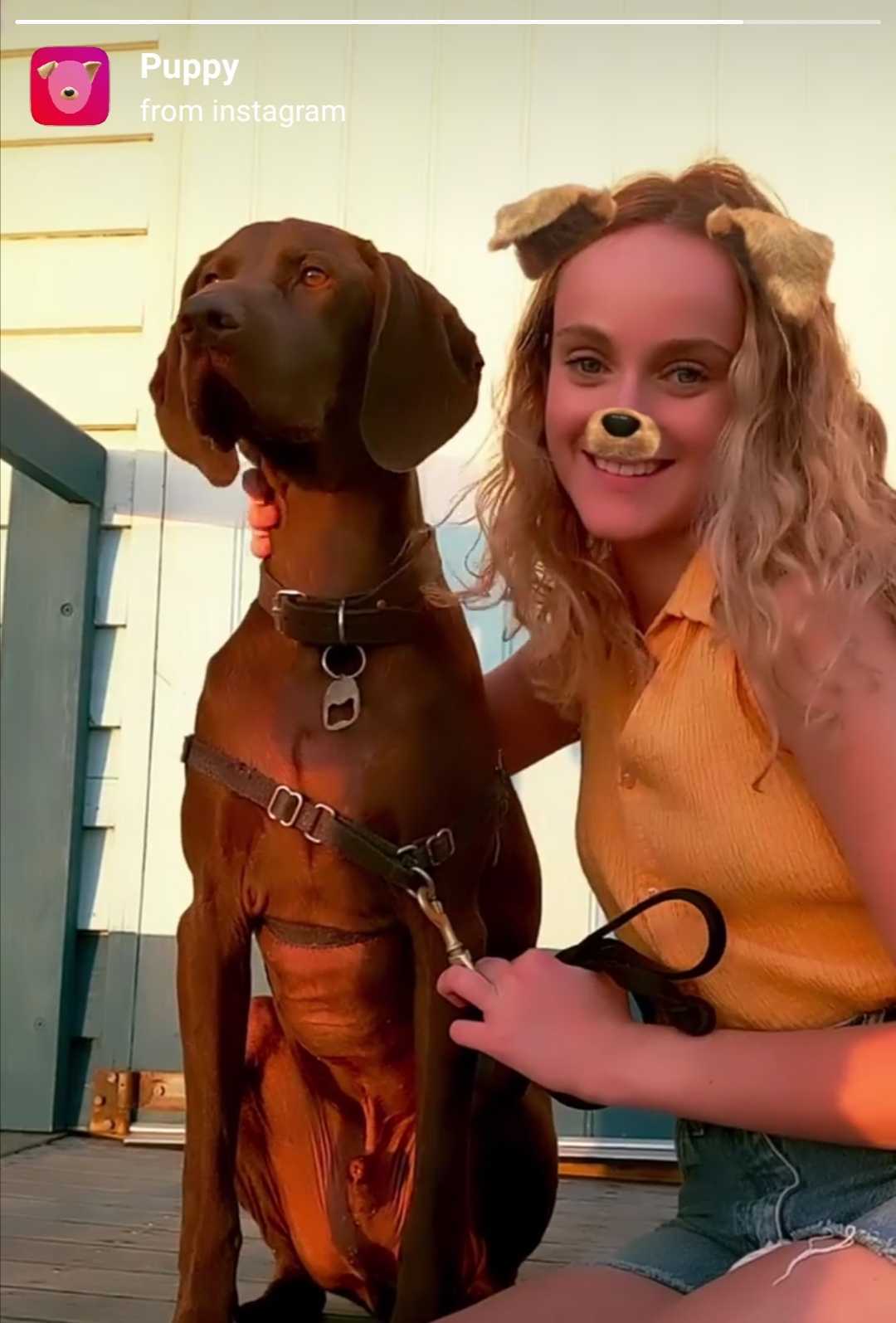 In other words, these AR filters add a new layer to your stories, which makes them more interesting and engaging for your audience.
How to add filters to your stories
Adding AR filters to your story is very straight forward, and you can do it right within the Instagram app. So, you don't have to leave the app and hunt for filters somewhere else. Instead, all you have to do is start a new story and choose your favorite filters.
Open the Instagram app and swipe right or tap the + icon at the top right of your screen to start a new story.
At the bottom of your screen you'll see the white record button. Swipe right here.
Now you can browse through the filter gallery. As you tap on different filters, you can see how they look right away on your screen.
If you tap the filter that appears in the circle once, you'll take a picture with that AR effect. If you hold the button longer, you can record a video with the filter.
Once you have found a filter you like and have taken a picture or recorded a video with it, you can post the story with the chosen filter effect it for your fans to see.
You will notice that there are many different effects to choose from, such as:
silly face (an Instagram filter that distorts your face in a funny way)
aqua glitter
doodle heart (adding hearts around your face)
starburst
light leak IV (a sun beam effect)
starry night
sparkles
summer bloom
winter blossom
glitter
golden glitter
doodle sparkles
heart eyes (two big hearts appear in your eyes)
bunny
heart bloom
subtle (which includes several light effect filters, such as warm, cool, disco, dusk or retro)
fall bloom
sunglasses
While some of these filters such as the bunny ears or the heart eyes are very playful, other effects are more subtle. For example, adding the summer bloom filter to your story will give your picture or video that fun, outdoorsy summer feeling everybody knows and loves, without being too over-the-top.
Just play around with the different filters, and see which ones are the best fit for your story and your brand.
Discover new filters for Instagram stories
If these filters are not enough for you, or if you are looking for something very specific, don't worry. There are a lot more Instagram Stories filters out there than you can see in the filter gallery in your creator mode.
Browse Effects
Once you get to the end of your filter reel, you'll see a magnifying glass icon that lets you browse effects. If you tap it, it will lead you to the Effect Gallery where you can find many more filters. You can browse through filter categories such as selfies, moods, surroundings, and many more to explore new filters.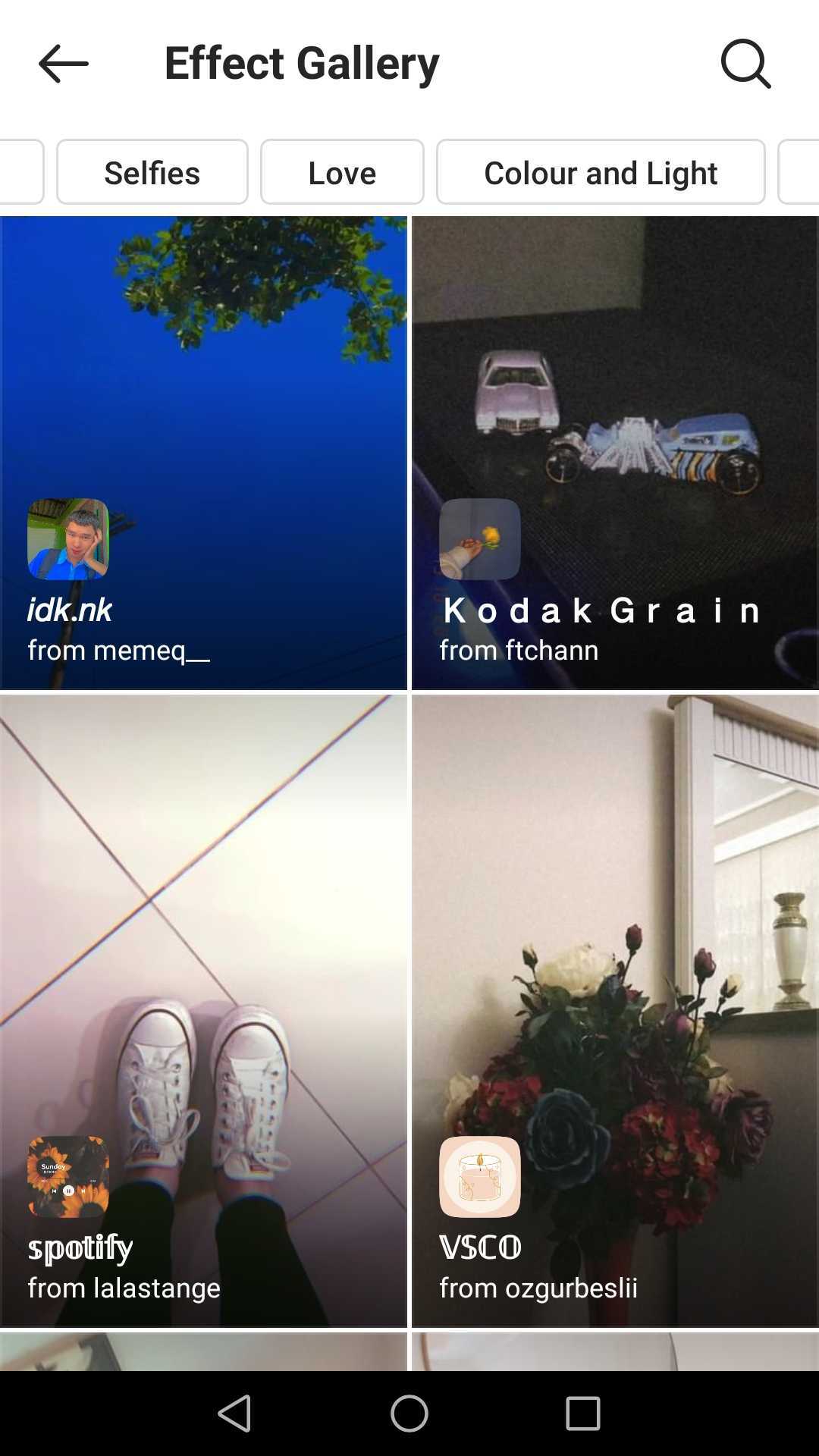 Here is a full list of current filter categories on Instagram:
Instagram
Selfies
Love
Colour and Light
Camera Styles
Moods
Funny
Surroundings
Animals
Sci-Fi and Fantasy
Weird and Scary
Events
Fandom
Causes
Immersive
World AR
Games
Appearance
If you still can't find what you are looking for, or if you simply want to explore more filters, you can also search for specific filters by typing in keywords, such as "futuristic" or "vintage vibes."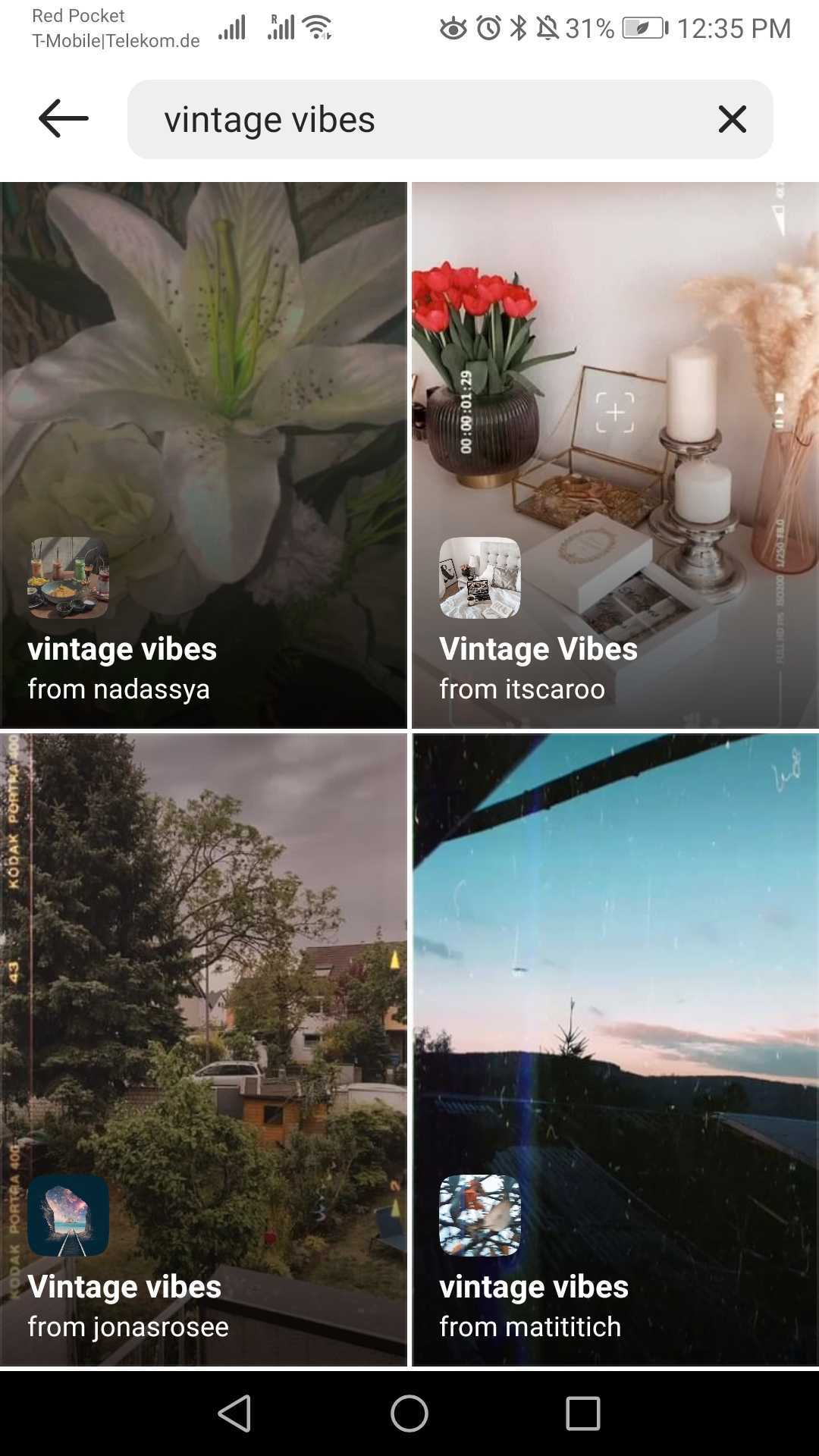 Once you find a filter you like, just tap it, and then hit the "try it" button in the bottom left corner to see how it looks on your screen. Then, you will have several options.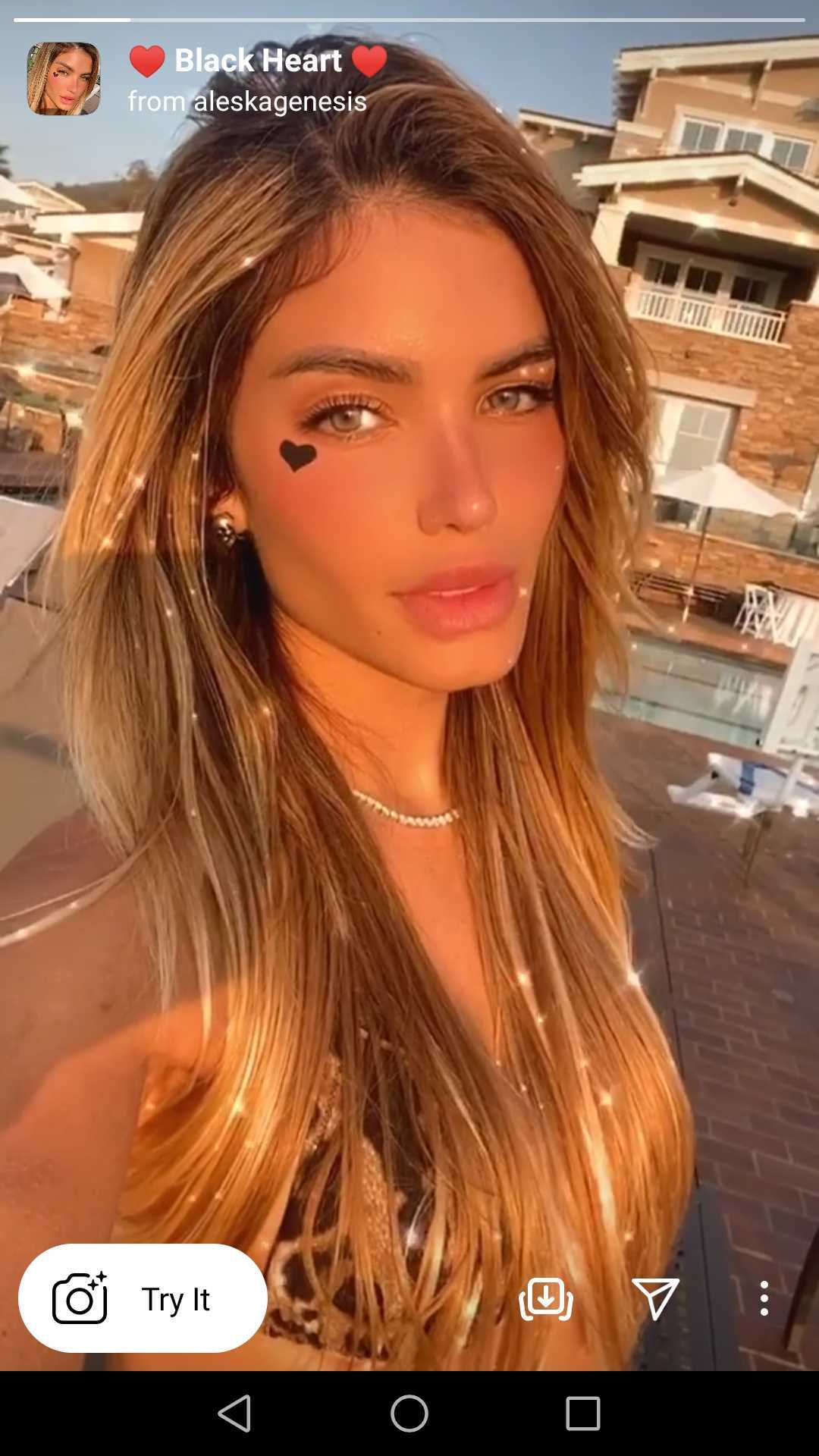 You can now either go ahead and use the chosen filter for your story. Or, if you really like the effect, you can also tap the arrow down button to save the filter to your own filter gallery or send it to your friends.
Get filters from your friends
If you see a filter you like in somebody's story, all you have to do is tap in the top left corner of the screen to see the name of the filter and use it yourself.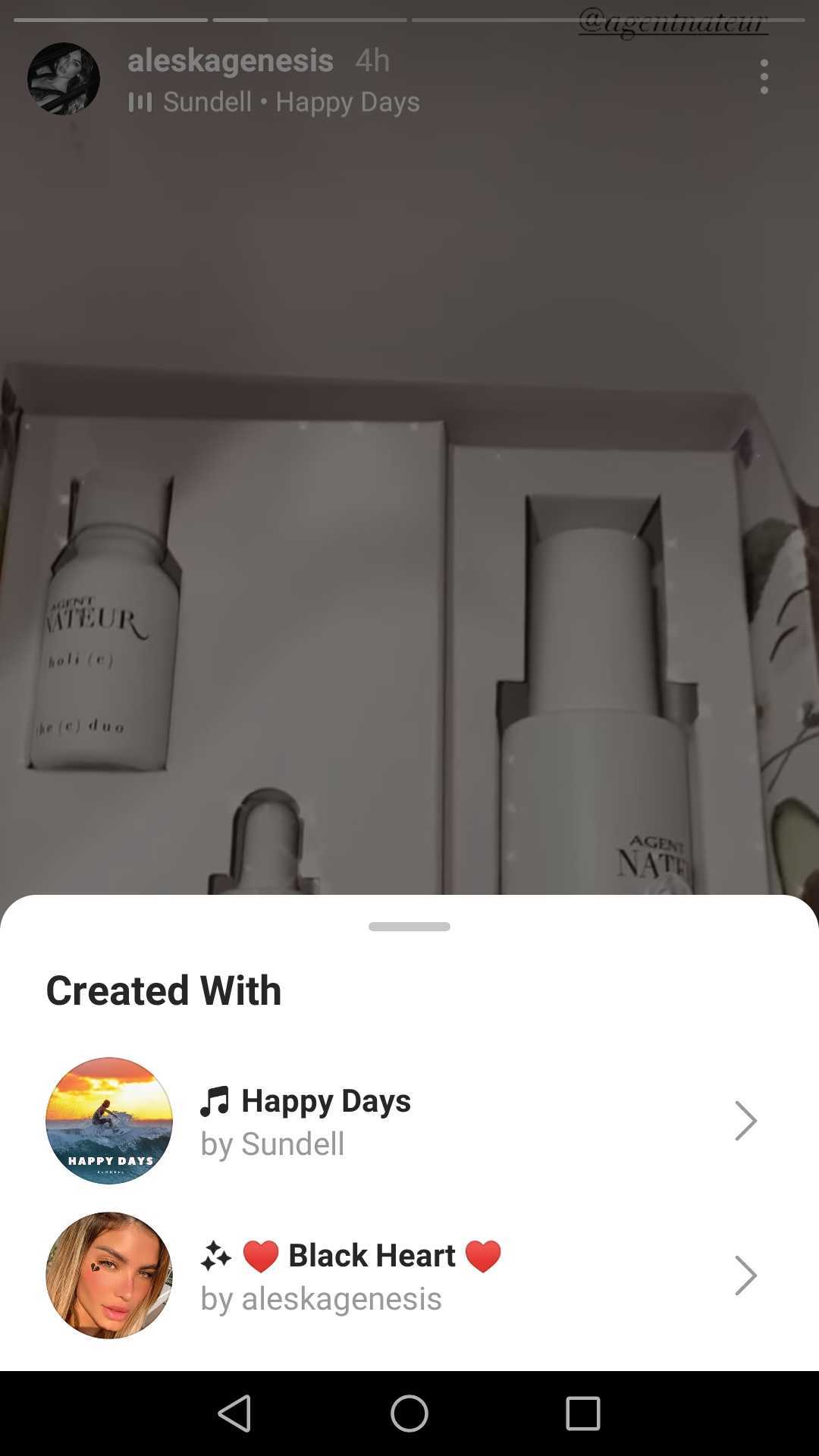 Explore filters on Lenslist
As AR filters are hugely popular on social media, there are whole websites dedicated to these effects. One of the best known sites is Lenslist, where you can find many interesting filters for your Instagram stories. Lenslist's filters also work on other platforms, such as Facebook, Snapchat and TikTok.
Create your own filters
Finally, you can also create your own filters for your Instagram Stories through the Spark AR Studio platform, which is a great way to create branded content.
How using AR filters in Instagram Stories can help your brand
While it is great fun to play around with filters on Instagram Stories, you might wonder: How does it help my business? Well, filters can help in several ways, actually.
1. Show your personality
Think of Instagram Stories as a way to share glimpses of who you are as a brand with your followers. What does your brand stand for? Who are the people behind it? Your fans want to get to know you. And the more of your personality and your brand's specific message that comes through in your stories, the more captivating and engaging your content will be for your audience. Filters are one way of showing your fans what your brand is all about.
2. Raise engagement
Filters and effects can add some flavor to your posts and make them stand out. As there are so many brands on Instagram, it is very easy to get overlooked. So, use your creativity and Instagram's filters to make your stories pop! Since Instagram users love filters, adding them to your stories will increase engagement.
3. Promote new products
Every company knows: new products and services need to stand out. Promoting a new product by adding a filter to your story can help you do just that. It can create more buzz around a new launch, and raise awareness for it.
Dos and don'ts when using filters in Instagram Stories
Since there are so many different filters to choose from, you probably won't have a hard time finding effects that fit well with your brand. However, before you go diving in; here are a few things to keep in mind.
Be selective
Obviously, not every story needs a filter, and not every filter is meant for every brand. So, be selective and thoughtful when picking a filter for your story. Ideally, you should choose filters in a way that fits your brand's visual language.
Have fun
On the other hand, don't forget to have some fun with it too, and explore a more humorous and creative side of your brand. Because in the end, having fun is what Instagram filters are all about.
Make a plan
Yes, Instagram stories are meant to be spontaneous. However, if you are running your own business, you obviously can't spend all your time coming up with creative ideas for your stories. So it makes sense to plan ahead.
This doesn't mean that your stories can't sometimes be spur-of-the-moment creations – it's just that it can be more efficient and save time if you have the right tools for planning your stories.
For example, you can set aside a certain day of the week to work on your Instagram stories, from coming up with concepts to choosing the perfect filters and creating the stories. This way, you can create your week's worth of stories all at once while you are in a creative mood, and then schedule them to be posted later.
Unfortunately, Instagram doesn't allow you to do this in the app, as there is no option for scheduling posts. Luckily though, there is Storrito.
Storrito is a handy web tool for creating, editing and scheduling Instagram stories, even in bulk. You can work from the comfort of your desktop PC, even collaborate with others on a story, and use all the great effects you know and love from the Instagram app.
Save time, create beautiful stories, and get the most out of Instagram Stories for your business with Storrito!