Music can bring more life to your Instagram stories and increase engagement. In this guide, we will look at how to add music to your Instagram story to boost your brand.
Music, or no music? When creating Instagram stories, this is a question many brands ask themselves.
On the one hand, adding sound to a story, especially video content, makes it more engaging and more dynamic. You can also add more personality to your content, or create a recognizable musical language around your brand. On the other hand, adding music to Instagram Stories can sometimes be problematic, especially for companies.
First, if your audience mainly watches your stories on the go or in a public setting, viewers might not want to have to deal with sounds in a story. Second, you might run into copyright issues when using music in a commercial or business context.
However, there are still ways to include music in your stories, and music can be a powerful tool to build your brand on social media.
Benefits of using music in your Instagram stories
Before we look at how you can add music to your stories, let's explore why it's even worth considering adding music or sound elements to your content.
Obviously, if you have a beautiful picture or a text-based story where it is really important for the message to stand out, adding music is not necessary. It might even distract from your content. However, music can be a great addition to video content.
Video content is becoming increasingly more important on Instagram, as videos are usually perceived as more spontaneous and more authentic than a perfectly crafted picture, and they also tend to generate more engagement. Music that plays in the background can help your videos to stand out even more.
Music adds emotion to your content
Music affects our mood, often on a very subconscious level. This means that you can use music to set the tone for your video. Use instrumental background music to highlight beautiful scenery. Include an upbeat song to lighten the mood or just make the video seem more fun. Even if you are just presenting a new product in a video, the right music will help you showcase it in the perfect way.
Make your content stand out more
Because music is such a mood enhancer, it will help you boost your content. In a sea of silent stories, adding sound will make your content stand out more. You could even try to create a musical language around your brand to distinguish yourself from your competitors even more.
Enhance engagement
Music adds another layer to your content, which makes video content even more dynamic and more interesting to watch. So don't be afraid to use music in your videos to boost engagement.
How to add music to your Instagram story
The easiest way to add music to an Instagram story is to use the music sticker in the app.
Swipe right in the Instagram app to start a new story, and then tap "create".
Select the sticker button at the top.
You will see the music sticker in your sticker list.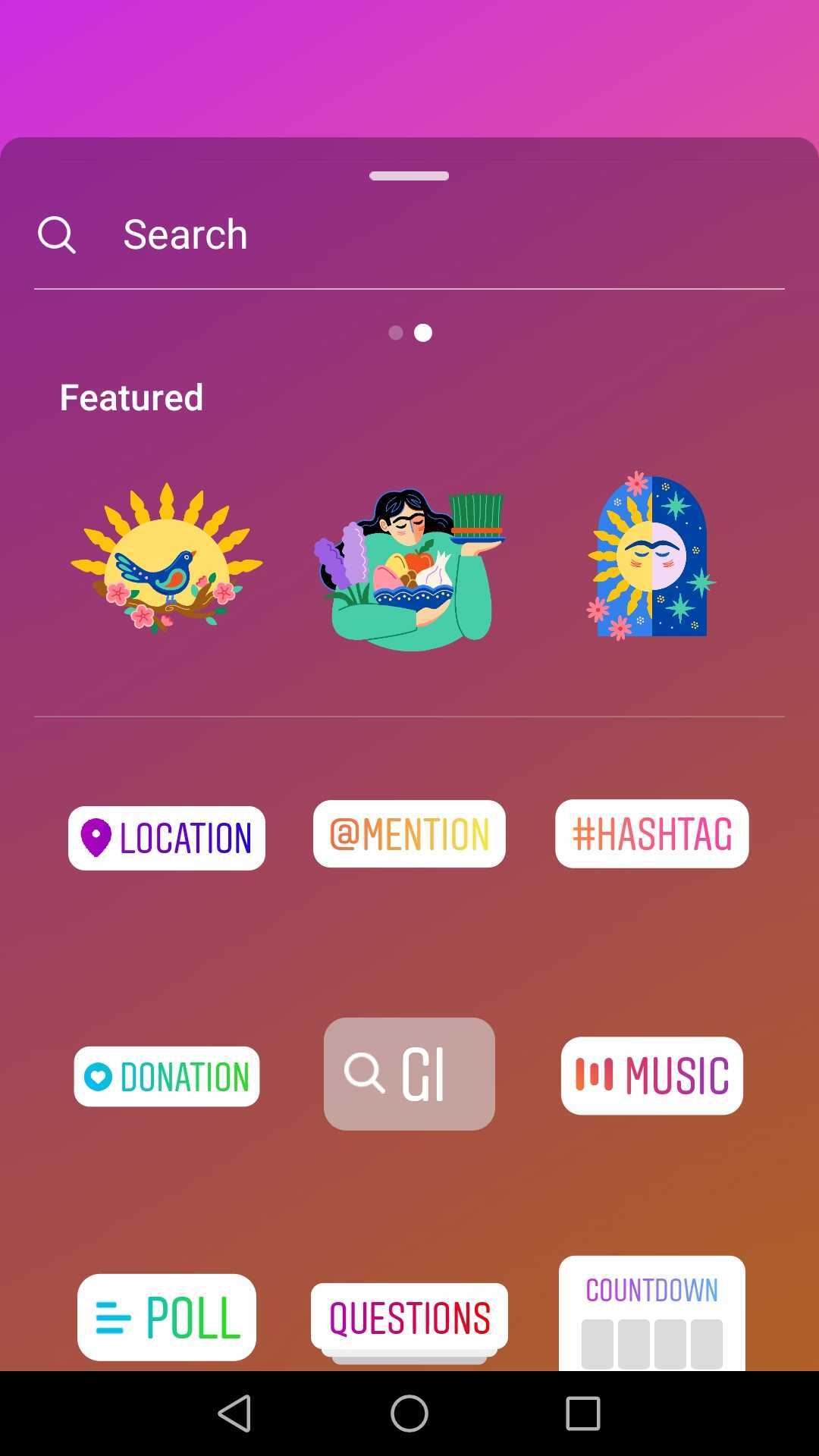 Tap the music sticker to access Instagram's sound library where you can find the music. You can choose from thousands of songs to add to your story.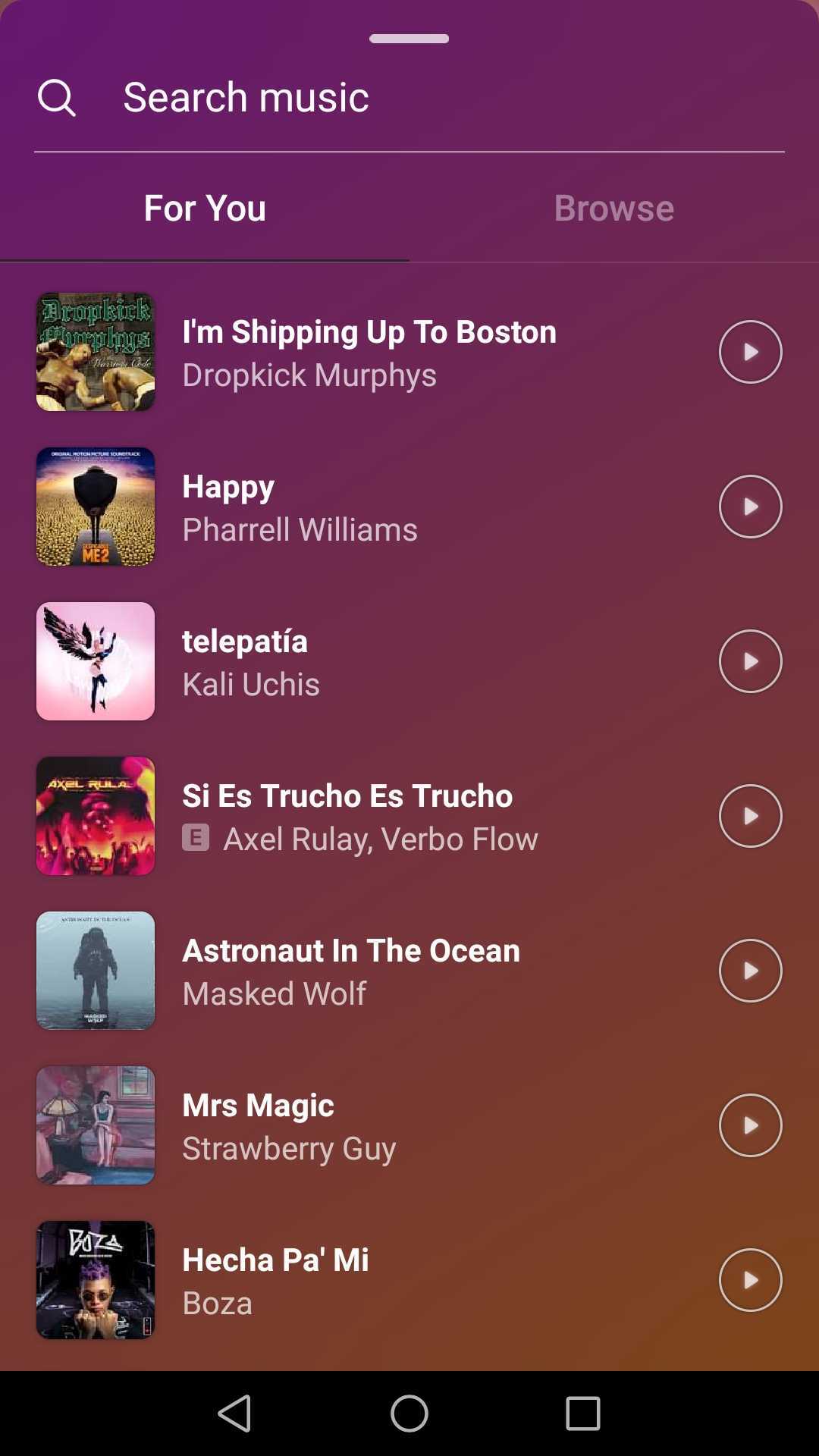 As with most interactive stickers on Instagram, you can now customize them to best fit your story. Choose, for example, the length of the sound clip, or what part of a song you want to include in your story. Once published, viewers will be able to find out more about the artist or song in your story by tapping on the sticker.
Music library on Instagram: limitations for businesses
If you don't see the music sticker, make sure that you have run the latest update for the app in order to be able to access it. It is also possible that the music sticker is not available in your country. If that's the case, no need to worry; there are other ways to include music in your Instagram stories.
You can, for example, share music from Spotify to your Instagram story. Or of course, you can add music to your story in a video editor, and then just upload the story to your app.
As a business, however, you will run into another problem with adding music to your stories on Instagram: copyright issues.
Business accounts are not allowed to use copyrighted music from the Instagram library. The same goes for copyrighted music from Spotify. However, you do have access to the Facebook Sound Collection, which has more than 9,000 songs.
If you want to create videos with royalty-free music, there are several options out there for businesses.
Where to find royalty-free music for your Instagram stories
As a business, you want to make sure that you don't get into copyright issues when using music in your videos. Otherwise, your videos might get blocked from viewing in certain countries. They could also get removed, or you could even get into legal issues over copyright infringement.
So, it's best to avoid copyrighted music. The good news is: there are a lot of great resources for royalty-free music on the internet.
Many sites offer a great selection of music where you don't have to worry about the copyright, or even pay for it. A few examples are:
[The YouTube Audio Library]()
Before you start including music from these sites in your videos, make sure to check the publishing requirements first. Some songs might require artist attribution, for example.
Aside from free music libraries, there are also platforms where for a monthly subscription, you get access to royalty-free music. Two great resources are:
Paying for royalty-free music has one big advantage: you get a license to prove that the music was not copyrighted at the time you purchased it. So even if the artist later decides to copyright his or her music, it won't affect your content, whereas using free music might not guarantee that.
Tips and tricks for using sound in your Instagram stories
As mentioned before, using sound in your Instagram stories can be tricky, since viewers might actually prefer silent content in certain settings.
Since Instagram users have to actively tap the sound button or the volume setting on their smartphones to activate the sound, the silent mode is the default setting on Instagram Stories.
This means that you usually don't have to worry about unwanted sound popping up when someone watches your story. If your music is just meant as a content enhancer, watching a silent video is fine.
However, there might be video content where the sound is important, for example, when posting a tutorial or sharing a customer's experience, or when featuring a brand takeover with an employee or an influencer.
In these cases, you want to alert your fans to turn on the sound by adding a sound-on disclaimer or a GIF that tells them to turn on the sound.
If you want your audience to be able to watch the video in silent mode without missing out on the content, you could include subtitles in your videos.
Alternatively, you could highlight the key facts in your video story by inserting text, like the make-up brand Glossier did in their story about a new lipstick.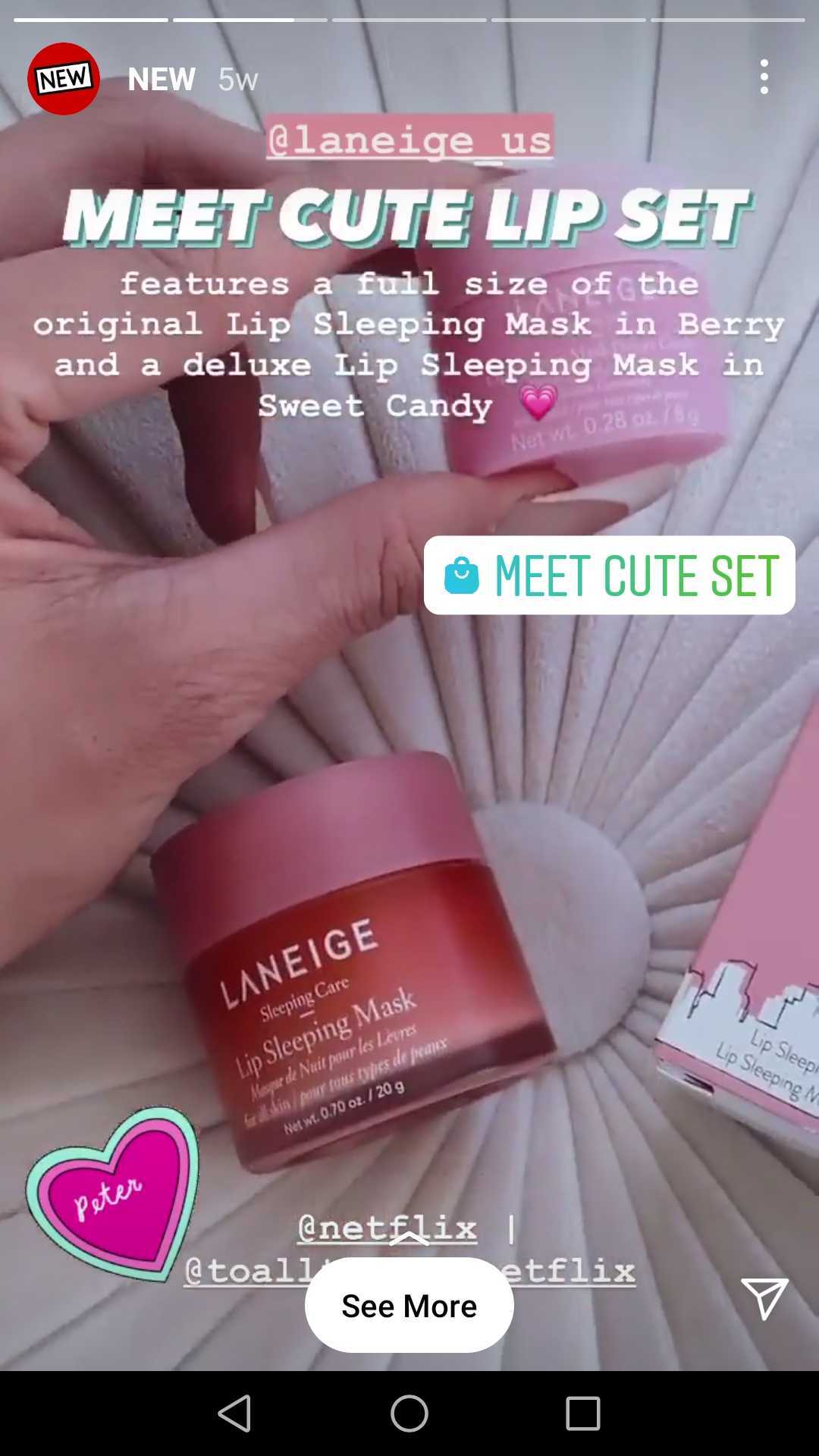 This way, even if your fans watch your story on silent, they won't miss the most important points.
Don't give up (completely) on silent content
While there are many benefits to using music in your Instagram stories, it is not a must. There are actually many successful brands that purposefully don't use sound in their stories.
Starbucks, for example, prefers strong visual posts and mostly uses interactive stickers or catchy messages to add an element of fun to their Instagram stories.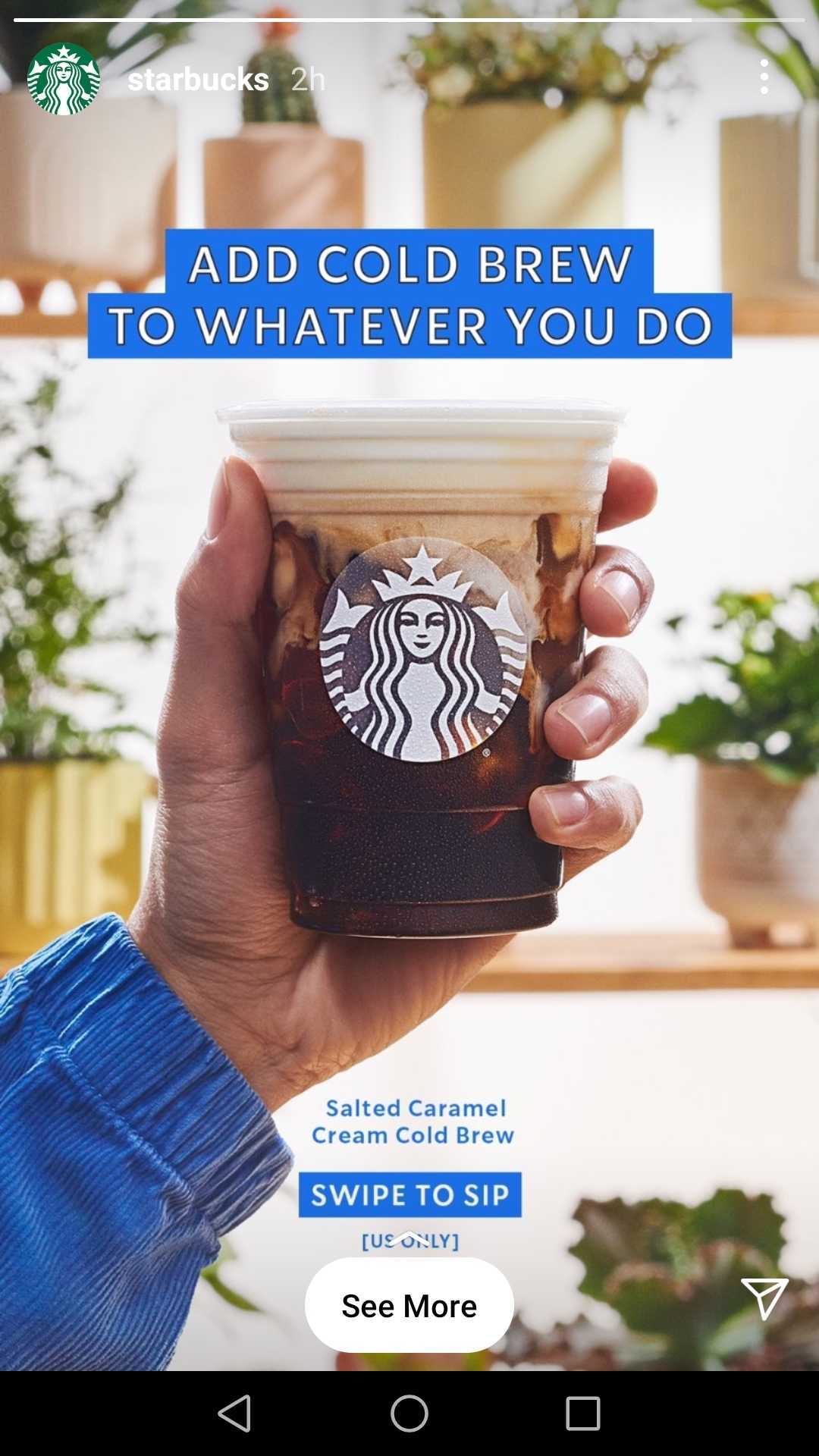 Also, creating video content and adding music is additional work. Depending on your brand and target audience, it might not be worth it for you.
If you aren't sure if you should include music in your stories, the best approach is to just try it out and see how it goes. Your fans might love it, and it might become a regular feature in your stories. Or, you might decide to only use music for specific purposes, or even to just stick with silent content.
In any case, using a planning tool like Storrito can help you save time and make it easier to create sophisticated content for your Instagram stories, with or without music.
Storrito is a handy web tool for creating, editing, and scheduling Instagram stories. You can use it from your desktop PC, and even work on a story with multiple users. It is very intuitive and user-friendly. Especially if you work with video content, it can save you a lot of time and effort while helping you create high quality content to boost your brand.