Since Instagram came out with the interactive countdown sticker for Instagram Stories, it has become a lot easier for businesses to promote events, new content, new products, and to even drive sales. Find out how you can take advantage of the countdown sticker for your business.
The interactive countdown sticker on Instagram Stories is perfect if you want to draw attention to time-sensitive content such as a new product launch, an event, or a sale. Before Instagram introduced the countdown sticker, businesses did not really have an easy way to remind their followers about upcoming events. The countdown sticker has changed this, and there are many ways your business can take advantage of the feature.
How does the countdown sticker work on Instagram Stories?
With a countdown sticker in your Instagram story, your followers will not only be alerted to an event, they can also share it or choose to be reminded of it.
Essentially, when you include an interactive countdown sticker in your story and users tap on it, they get two options. They can either get countdown reminders, or they can share the countdown to their account. Users will find the reminders either as a push notification on their phones or in their Instagram notifications.
If a user chooses the reminder option from your countdown sticker, you will also get a notification about it in your activity feed or in your inbox, which can come in really handy for tracking interest rates and finding out what type of users are interested in your countdowns. Especially if you combine this with other features such as links to a website or shopping buttons, there is a lot of potential to generate traffic and increase sales for your business.
As with all interactive elements on Instagram, there are countless ways to use the countdown sticker in your stories to benefit your business. Here are just a few examples to show you how other companies are using the feature for their brands.
Countdown to new content uploads
Do you have a new podcast episode or blog post coming out soon? Are you planning on uploading a new video to your YouTube channel? Use the countdown sticker to announce new content!
Countdown stickers are a huge attention grabber and can direct more traffic to your web content. Marketing coach Amanda Robinson, for example, likes to use countdown stickers to promote new content before she launches it, such as her new book that will be coming out in 11 months.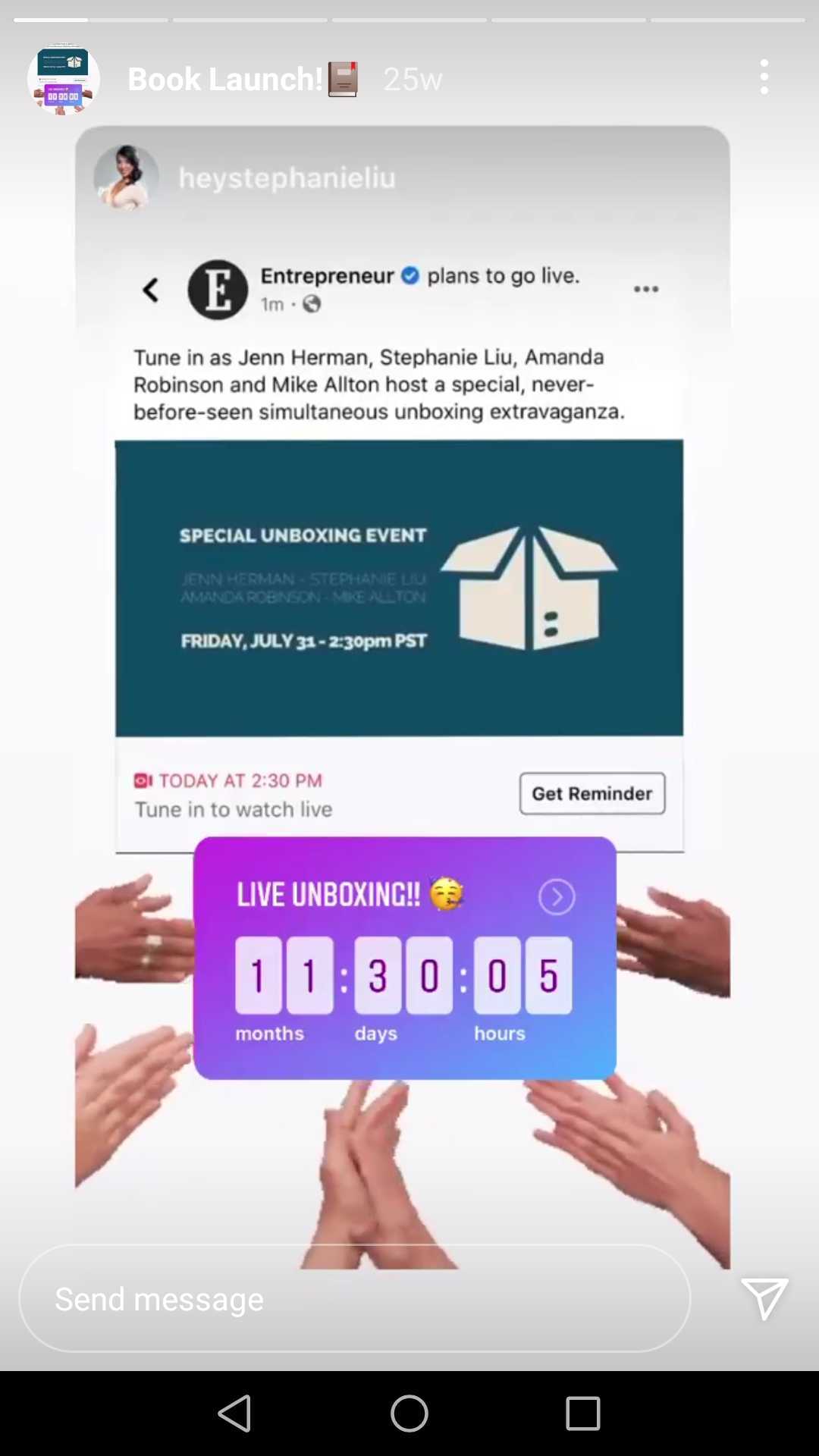 Create anticipation for limited-time sales
A sale that ends in a few days is always a great motivation for consumers to check out the offer. Studies show that if customers know that an offer is only available for a certain period of time, they are more likely to make a purchase — out of fear of missing out on a good deal.
Countdown stickers create this very sense of urgency, so they can be a very effective tool for promoting a sale and ultimately, increasing revenue.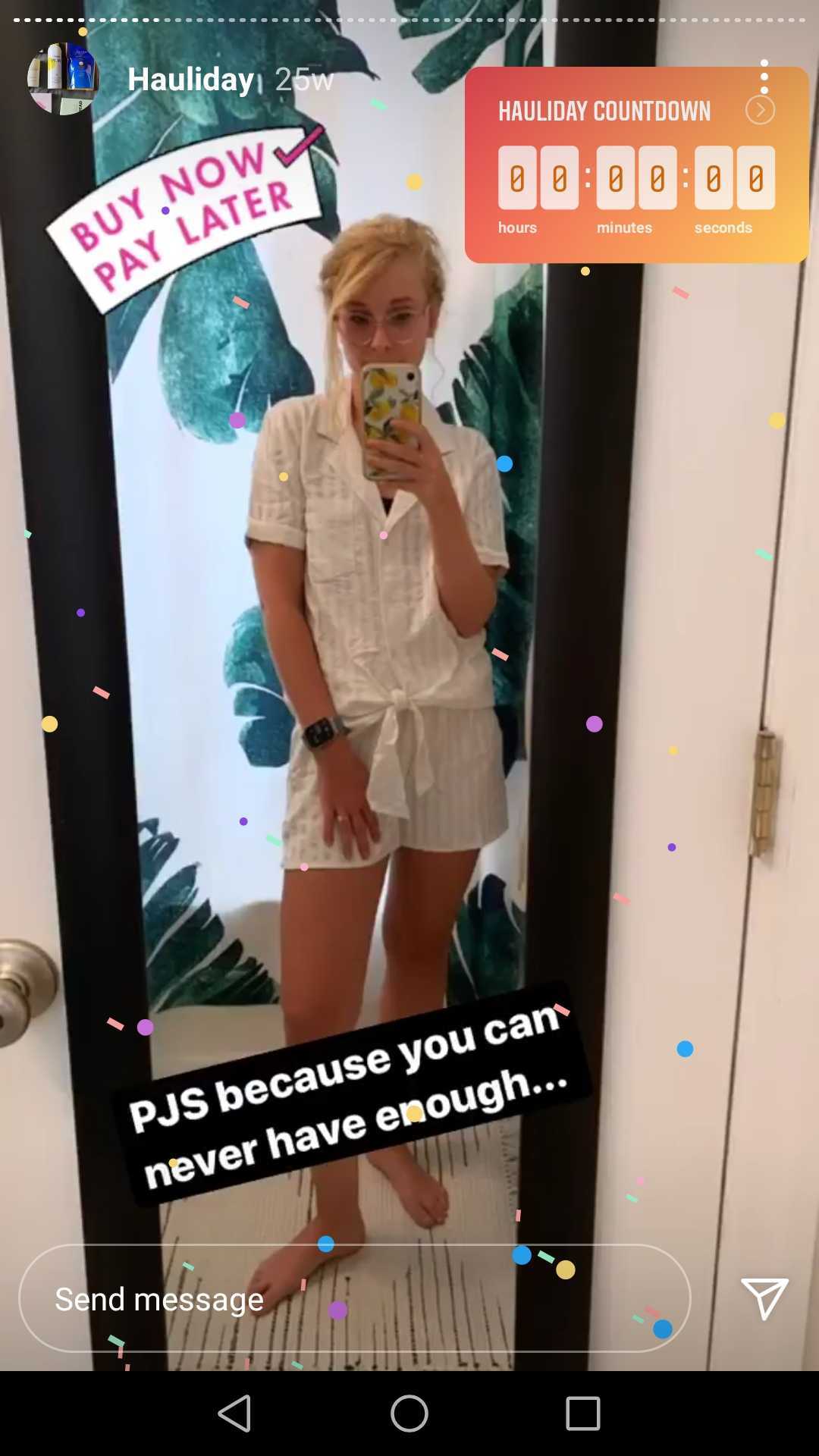 Make sure to include a swipe-up link or a shopping button in your story to make it easy for users to buy the products.
Launching a webinar or (online) course
If you want to host a webinar, a course, or even a retreat where the number of participants is restricted and users have to sign up in advance, the countdown sticker can be a clever way to get more people to register.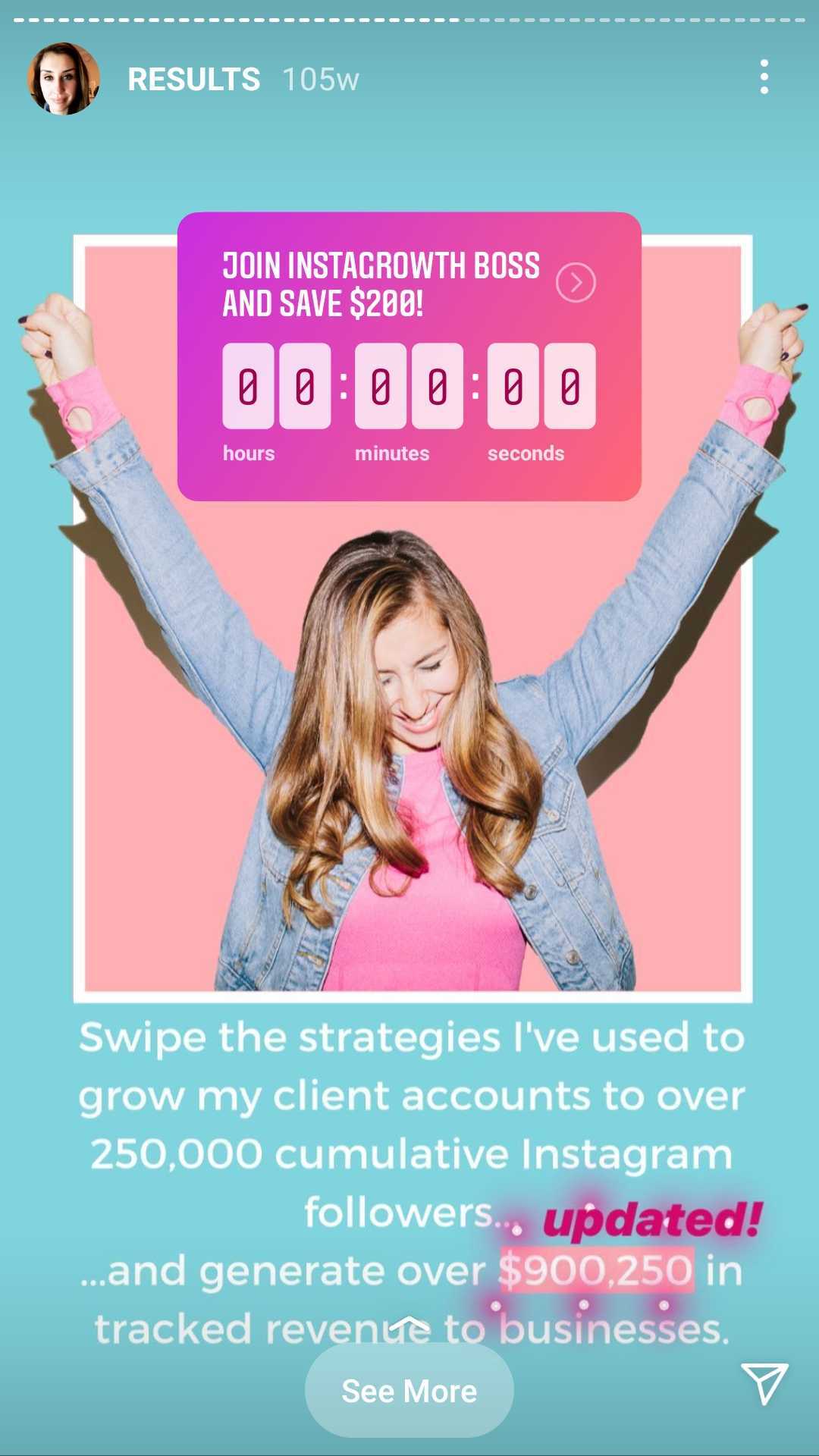 First, the flashy countdown sticker will draw more attention to your offer. Second, a countdown always implies that it is a limited offer, and the sense of urgency will encourage people to sign up faster. You could even encourage this by adding a reward for early birds, like offering a 25% discount to the first ten people that sign up.
As with sales, don't forget to include a swipe-up option for people to register.
Promote events
Obviously, during the current pandemic, in-person events can be more difficult to organize since you have to make sure you follow health and safety regulations and limit the number of people at a venue. If you are organizing a live event though, such as an outside concert, you can still take advantage of the countdown sticker to draw attention to the event and use the swipe-up button to lead users to a page where they can sign up for the event. In the past, the San Diego Chamber of Commerce has regularly hosted events that were also open to a limited number of outside visitors, and they used countdown stickers to promote these events.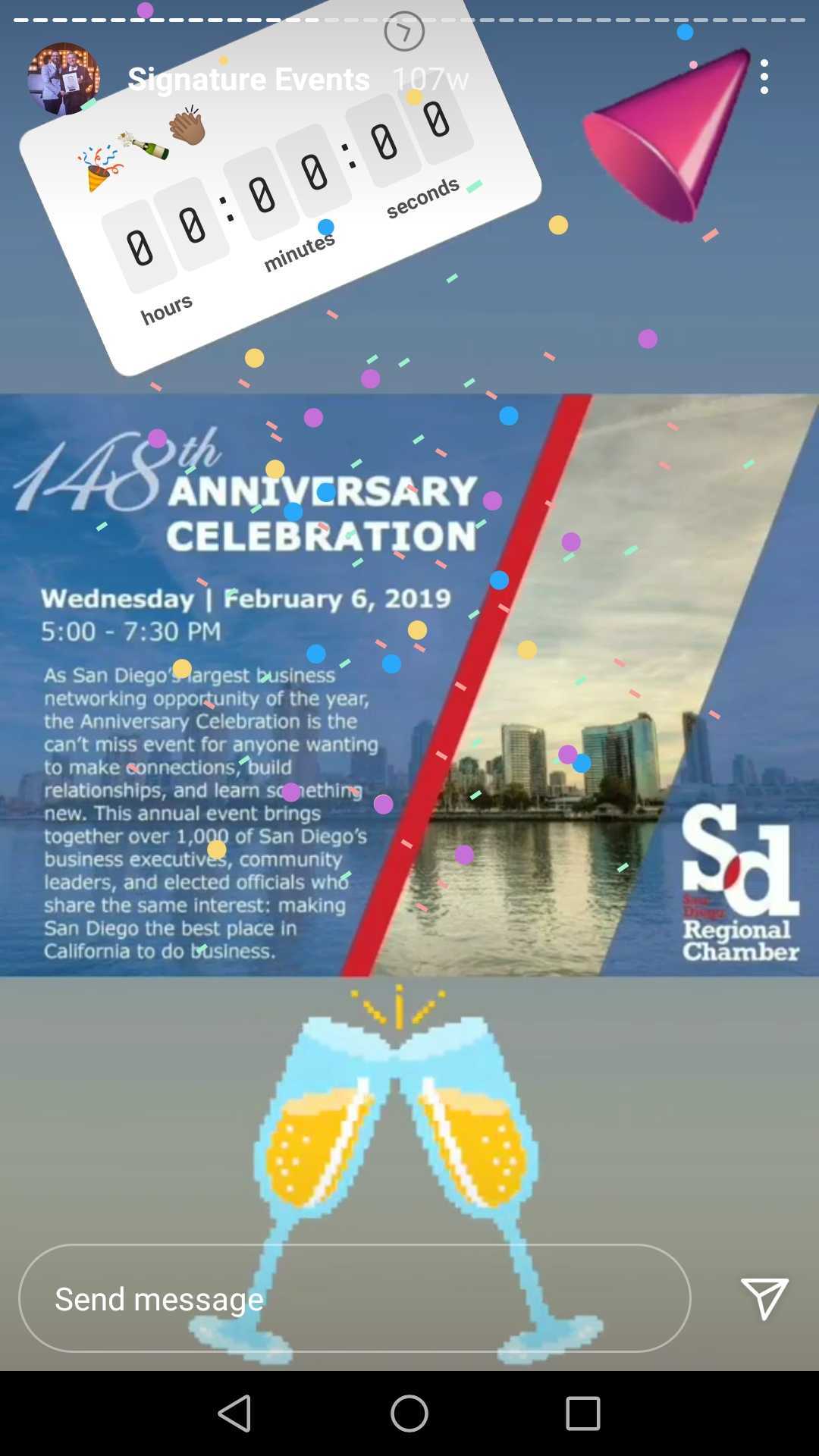 Of course, you can also use the countdown sticker to promote an online event like the make-up brand Sephora is doing in their story about their upcoming beauty chat room.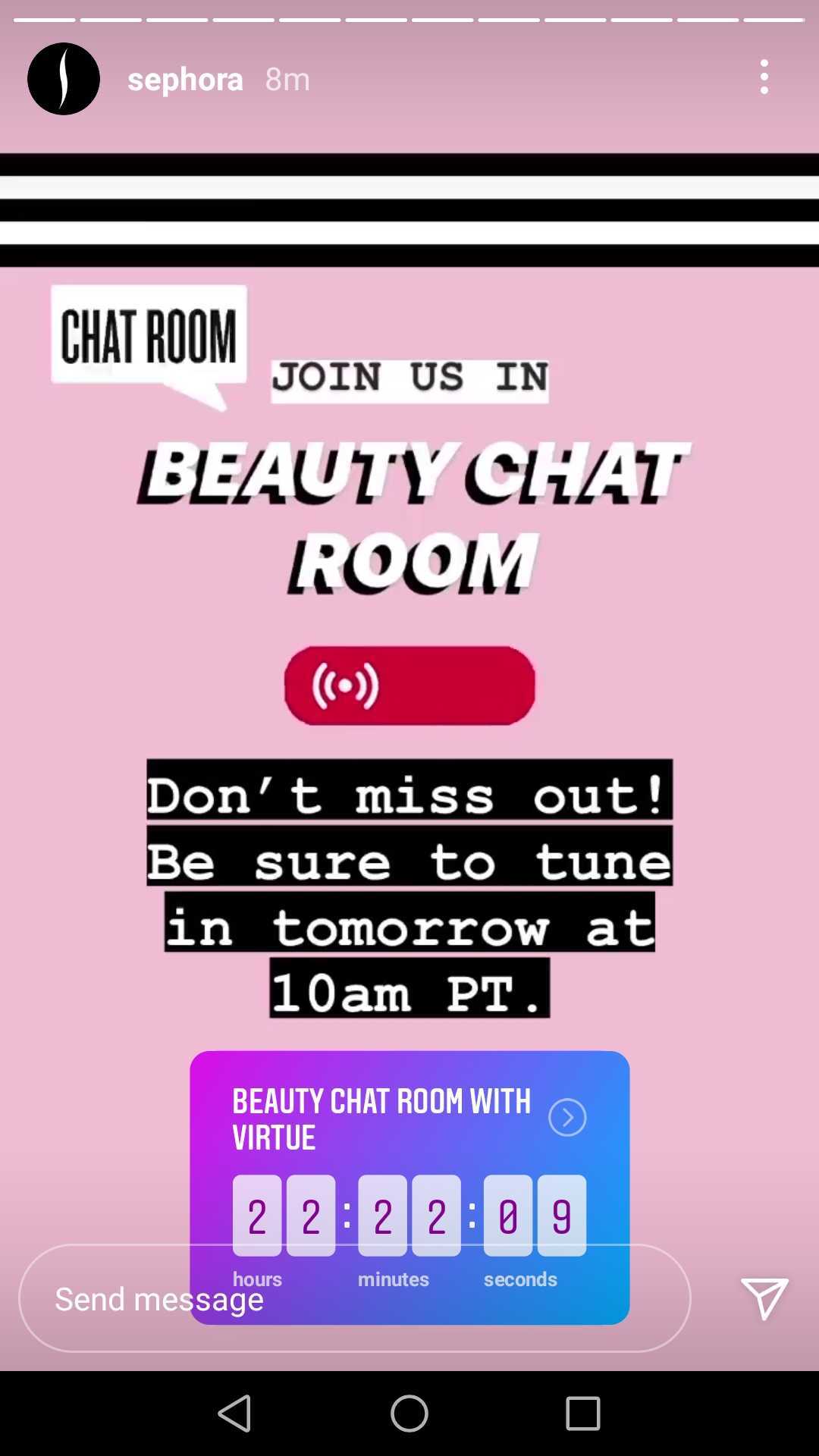 You can even take a Facebook event and cross-post it on Instagram Stories, for example, by taking a screenshot of the event page on Facebook and sharing it as a story on Instagram. If you add the countdown sticker to your Instagram story, interested followers can then also get event reminders on Instagram.
Start a contest
Starting a contest through a countdown sticker is a great way to drive user engagement with your brand. As a café, for example, you could have your followers share their favorite coffee stories and include a deadline via a countdown sticker. Whoever submits the best story by the deadline wins a free coffee at your store.