In the past year, Instagram has added several new features to help small businesses. One of them is the food order sticker for Instagram Stories. Find out how you can use it to increase sales for your business.
With most countries around the world being in some form of lockdown mode due to the Covid-19 pandemic, businesses, and especially small and medium-sized businesses have been hit hard.
They quickly had to find ways to take their business online in order to keep their companies going. In order to help these struggling businesses, in April 2020, Instagram introduced several new features. One of them is the food order sticker for Instagram Stories.
Get started with food order stickers on Instagram Stories
To share a food order, you start a new story and choose the food order sticker from the stickers menu. Once you select the food order sticker, you must choose a delivery partner such as Caviar, ChowNow, Grubhub, Uber Eats, or Doordash. Once users tap on the food delivery sticker, they can complete their order through one of those partners.
As a business, you will have to pay your delivery partners a percentage on every food order. However, they do take care of the entire delivery process for you, and these days, most restaurants and food vendors can use the extra business from online food orders.
Especially as a small business, using Instagram's food delivery stickers is an easy way to get your online sales going and increase your revenue without investing a lot of time and money.
Even if you already have an online order and delivery system set up through your own website, it might be worth considering Instagram Stories as a platform to boost your sales and reach new clients. Here's why.
Attract new customers through a new platform
Instagram reports roughly one billion monthly users and says that 500 million accounts access Instagram Stories daily, which means that Instagram is an important platform for finding new customers. And the best way to reach out to new customers is to meet them where they are.
If you really want to reach users online to help your business, you need to have a presence on Instagram. It doesn't mean that you need to abandon food orders through your website or phone orders, but the food order sticker on Instagram Stories does give you a new way to reach customers directly. So, why not take advantage of it?!
Spark viewers' interest with an engaging story about your restaurant, an interesting food item, or a new dish on your menu. Users will appreciate the possibility to order food right away, and you will definitely appreciate the extra business.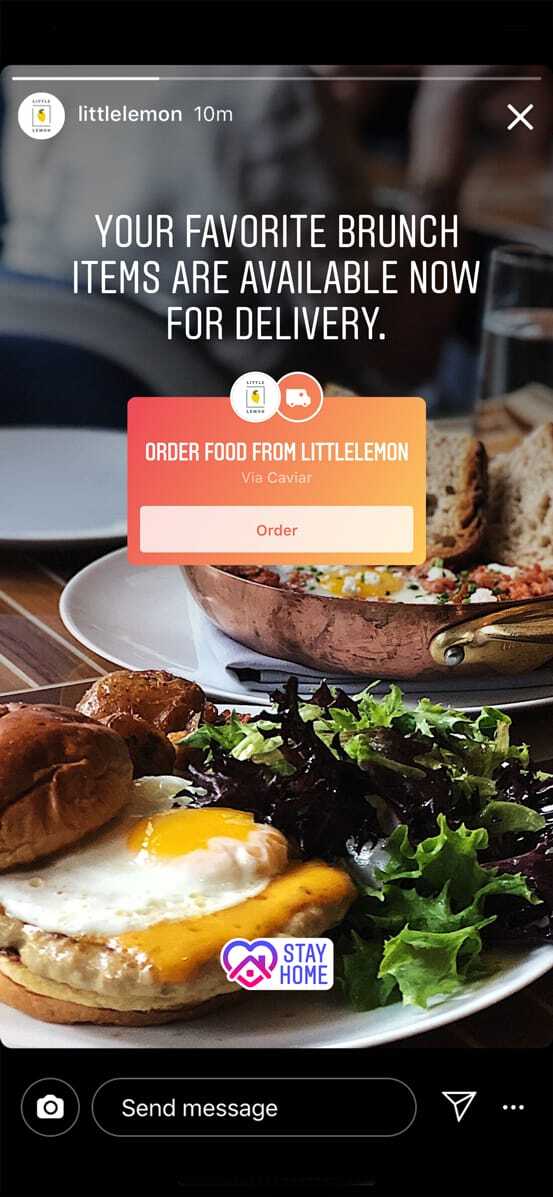 Food order stickers get your food on the customer's plate
When people are hungry, they want to get their food as soon as possible. However, ordering online can sometimes be a tedious task. On Instagram for example, before the food order sticker, users had to tap on a link in a story that would lead them to a website where they had to fill out a form to then finally be able to order their food. In contrast, ordering food through the Instagram Stories sticker just takes a few taps on the smartphone, and the food is basically on its way.
The smooth integration of the stickers with the most popular food delivery services that most users already have installed on their phones makes for a great customer experience, and it will keep your customers coming back for more.
The food order sticker gives you a unique advantage
Combining Instagram Stories with food orders offers your business an incredible advantage: it gives you a unique way to promote your food that will help boost your sales.
Even before the pandemic, restaurants used Instagram to attract new customers. With food being so photogenic, Instagram is the perfect social media channel for food companies.
With the food order sticker, you can now not only show off your delicious food but also give your fans the option of ordering it directly by tapping on the sticker in your story. When your followers see posts of your tasty-looking food, and they can get it delivered right away, it will be very hard for them to resist.
A great way to promote special dishes
Do you have a daily special or a great new item that you want to promote? Then you should consider including the food order sticker in your story to encourage your followers to buy it.
Instagram users browse through their stories to see what's new with the people and businesses they follow. Even if they know and love your food, discovering a new dish you put on your menu or a daily special will make them curious to try it right away.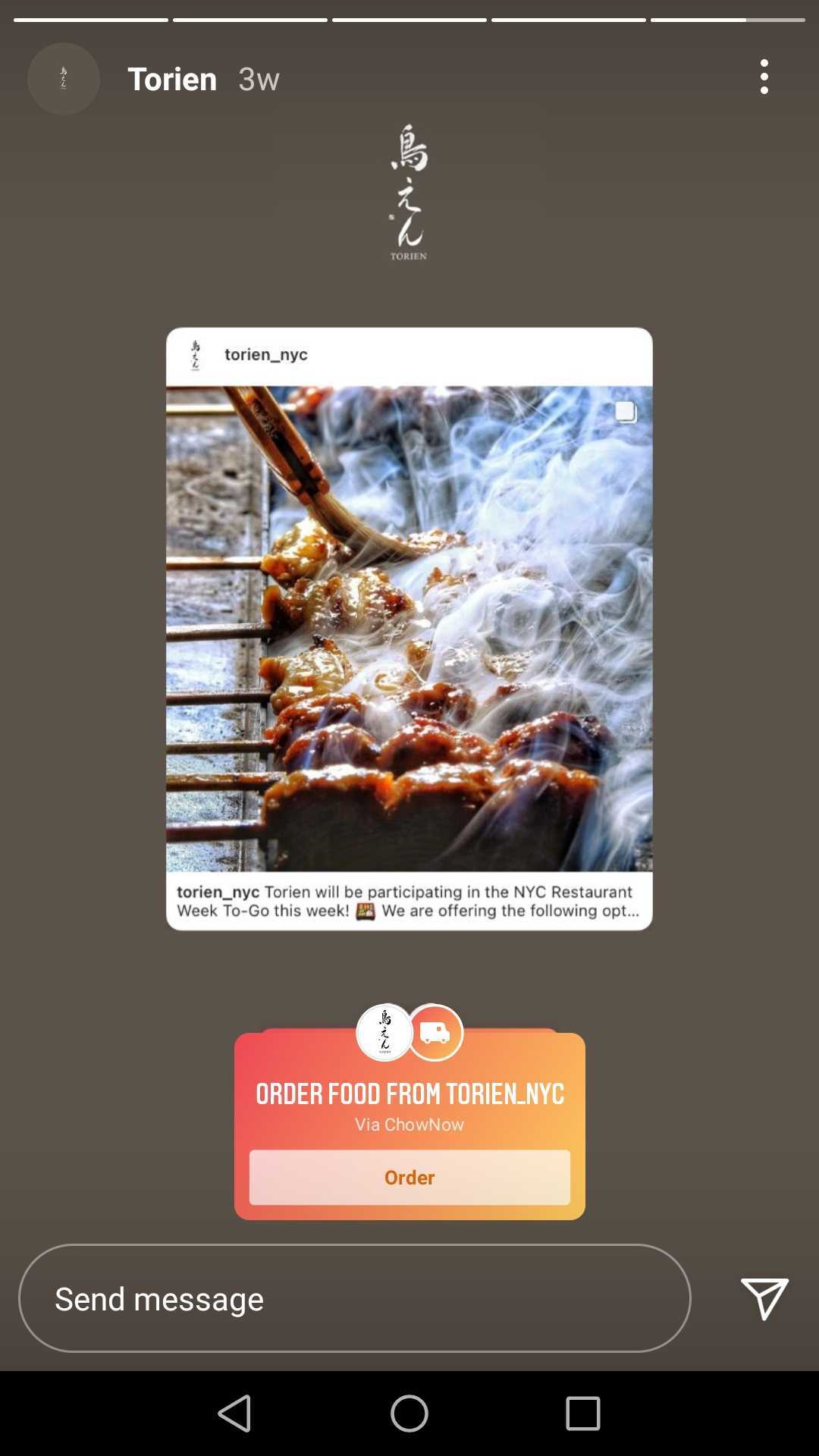 Show that your business is worth being supported
The lockdowns and the pandemic have taken a toll on everybody, but customers are still very aware that small businesses are hurting — and they want to help. The Instagram food order sticker allows them to do just that. They can order food in the easiest and quickest way possible, and at the same time support their favorite local businesses.
You don't have to beg your followers to order your food. Show them instead that you are an important part of their community, and therefore worth their support – for example, by coming up with new ways to deliver food to them safely.
Tips for using the food order sticker
As with every feature on Instagram, you can get as creative as you want to with the food order stickers, but there are also a few things to consider if you want to get the most out of the stickers for your business.
With the food order stickers, you don't want to overdo it, and you want to put some thought into your posts.
For example, it is not necessary to include the sticker in every single one of your stories. Rather, insert the delivery option as a permanent button above your image feed. It will let your followers know that they can order food from you on Instagram. However, to have the biggest effect, save the food order sticker for special occasions such as a time-sensitive promotion, or a new menu item. This will help them to really stand out.
However, this can require some planning before you actually post your stories. Which food items do you want to promote with the food order sticker? What is the best way to make them stand out? When would be the best time to push your food delivery option in a story? Put some thought into it before you upload a food order story. Storrito can help you with this.
Use Storrito to plan your food stories
Storrito is a web tool for uploading, editing, and scheduling Instagram stories. You can even schedule multiple stories at the same time and cross-post your Instagram stories on Facebook, which can save you a lot of time and help you organize your social media strategy.
You can also use Storrito on virtually any device, including your desktop. Especially when working with high-quality food images or videos, you will appreciate being able to edit your stories on a large screen as opposed to being confined to the small smartphone screen like you normally would be when just using the Instagram app.
Storrito is also a collaborative tool, so multiple users can work on a story from their own device, no matter where they are.
Find out how to get started with Storrito and how to get the most out of it for your business.