If you want your business to succeed on Instagram, it's important to understand the different features of the platform. The better you understand how Instagram works, the more you can use the site to make your business stand out from the pack. In this article, we'll take a closer look at Instagram Guides.
Instagram launched Guides in May 2020 as a way for users to "easily find reliable information and inspiration." For businesses, guides are a great way to share recommendations and tips in a format that is easy to digest and to find, and that also stands out from other types of posts.
"When viewing a Guide, you can see posts and videos that the creator has curated, paired with helpful tips and advice. If you want to learn more about a specific post, you can tap on the image or video to view the original Instagram post." – Instagram

Guides are different from stories or feed posts in that they allow you to put together several posts and add commentary. It's a clever way to streamline information. For instance, you could group together shopping recommendations for the holidays under a guide. Or, you could create a helpful how-to-guide or tutorial for your followers.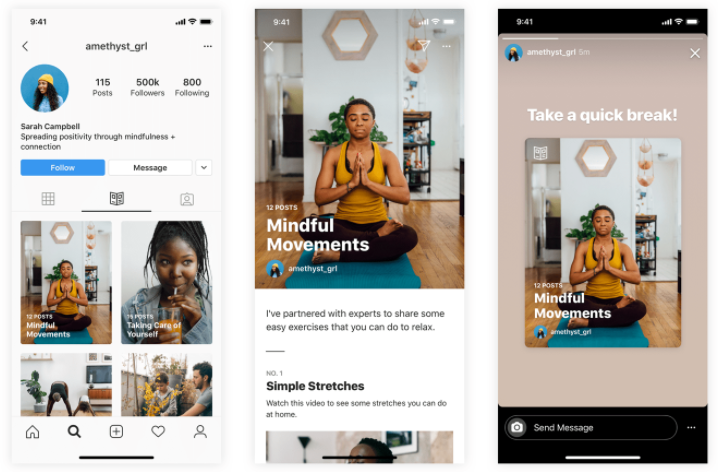 Guides appear under a separate tab on your profile, which also makes it easier for followers to find in-depth information on a specific topic. So, if you want to share curated, scrollable content with your followers, Instagram Guides is the perfect outlet.
In the following, we will look at how you can use guides on Instagram and go over Instagram's recommendations for getting the most out of the format.
How brands can use Guides on Instagram
Instagram Guides are the perfect format for long-term content. Unlike stories that disappear after 24 hours, or feed posts that get pushed to the bottom of your feed over time, guides can always be found easily under the "Guides" tab right above your feed. So, guides are perfect for any information you want your followers to be able to find quickly.
Guides can also help you to re-direct users to older posts. If users tap on an individual post in your guide they will be directed to the original post. So, by simply reposting older content in a new guide, you can increase the reach and engagement of these posts, since more users will get the chance to interact with them.
Instagram users also enjoy looking at guides since they present more in-depth information in a visually appealing way. It makes it easy to pick up important information on the go and without having to leave the app.
Instagram Guides therefore not only offer a great way for your brand to revive old content and save time and effort but also help provide your followers with useful content.
Getting started with Instagram Guides
Creating a guide is fairly easy and only takes a few steps.
For creating your first guide, tap the plus icon on your profile page and select "Guide."
You can now select if you want to create a guide for "Places," "Products," or "Posts." "Places" is ideal for creating travel guides, while "Products" allows you to create a shopping guide. "Posts" is a great way to arrange content you have previously posted in a new way.
Now you can select different entries for your guide and preview everything before you publish it.

Once you have posted your guide, it will appear under the "Guides" tab on your profile.
It is also possible to edit guides after you have posted them or delete individual entries, which is helpful for keeping your guides up to date.
Instagram's recommendations for getting the most out of Guides
Instagram has put together several tips for businesses that can help you improve the quality of your guides and increase engagement.

Consider your followers' needs
While guides can be a helpful tool for your brand, you should make sure that each guide you create offers additional value for your followers. Don't just post a guide for the sake of posting. Instead, Instagram suggests thinking about your customers' needs first before creating a guide.
What information would be really helpful for them? Do your customers seem to have common problems they might need help with? Or, are there frequently asked questions about your products? The more helpful your guides are for your audience, the more people will read your guides.
Be inspirational
Instagram users look at guides to find inspiration. Therefore, Instagram stresses the importance of making your guides a source of inspiration for your community.
Think about creating a guide around current shopping trends, exciting travel destinations, or an important current social issue you care about.
Create product guides
Instagram also recommends creating guides for your products, since product guides can be featured in Instagram Shop. Here, users will be able to see your product guides and shop for the featured products at the same time. This is a great way for your brand to use guides as a shopping inspiration and drive up sales at the same time.
Share your guides
If you create a new guide, make sure to share it with your followers. Instagram suggests sharing your guides through direct messages (DMs) or in your stories.
Direct messaging your followers a guide makes sense if it is a guide users have specifically requested or signed up for. However, be careful not to share every single guide with your followers through messages, since it can be perceived as being too pushy.
If you simply want to draw attention to a new guide you published, consider sharing it on Stories instead. Instagram Stories is ideal for sharing news with your followers. This way, you will be able to share your guide with more people without spamming their inboxes.
Schedule your stories
When cross-posting your content on Instagram, be very mindful of your timing. Depending on your marketing strategy and the time of day your followers are online, it might make sense to publish your guide at one time and the related story at a different time.
A clever hack to posting your guides in stories at the perfect time is to schedule them in advance. With Storrito, for example, you can upload, edit, and schedule Instagram stories in just a few clicks. Storrito is a free web tool that you can use on any device, from any location. Storrito is a collaborative tool as well, so you can even work on posts together with other users. Storrito makes planning your content so much easier and a lot more convenient. Try it out now!