If you want your business to succeed on Instagram, it's important to understand the different features of the platform. The better you understand how Instagram works, the more you can use the site to make your business stand out from the pack. In this article, we'll take a closer look at Instagram Videos.
Even though Instagram started as a photo sharing platform in 2010, it has since grown to include various new formats, such as stories, live broadcasts, and, videos. When Instagram first introduced the video format in 2013, five million videos were posted within 24 hours of the launch. And the format has only gotten more popular with users since then.
Studies show that users spend 80% of their time on Instagram watching videos. Users also love to engage with video content. After photos and carousels, videos generate the third-highest engagement rate on Instagram.
It's therefore fair to say that videos should be an important part of your business's marketing strategy on Instagram. In the following, we will look at the different video formats on Instagram and go over Instagram's recommendations for getting the most out of the format.
IGTV and feed videos are now Instagram Video
Until very recently, Instagram had three different video formats: feed videos, Instagram TV (IGTV), and Reels.
In October 2021, however, Instagram decided to streamline some of its video formats. The platform combined Instagram TV and feed videos into one single format, now called Instagram Video.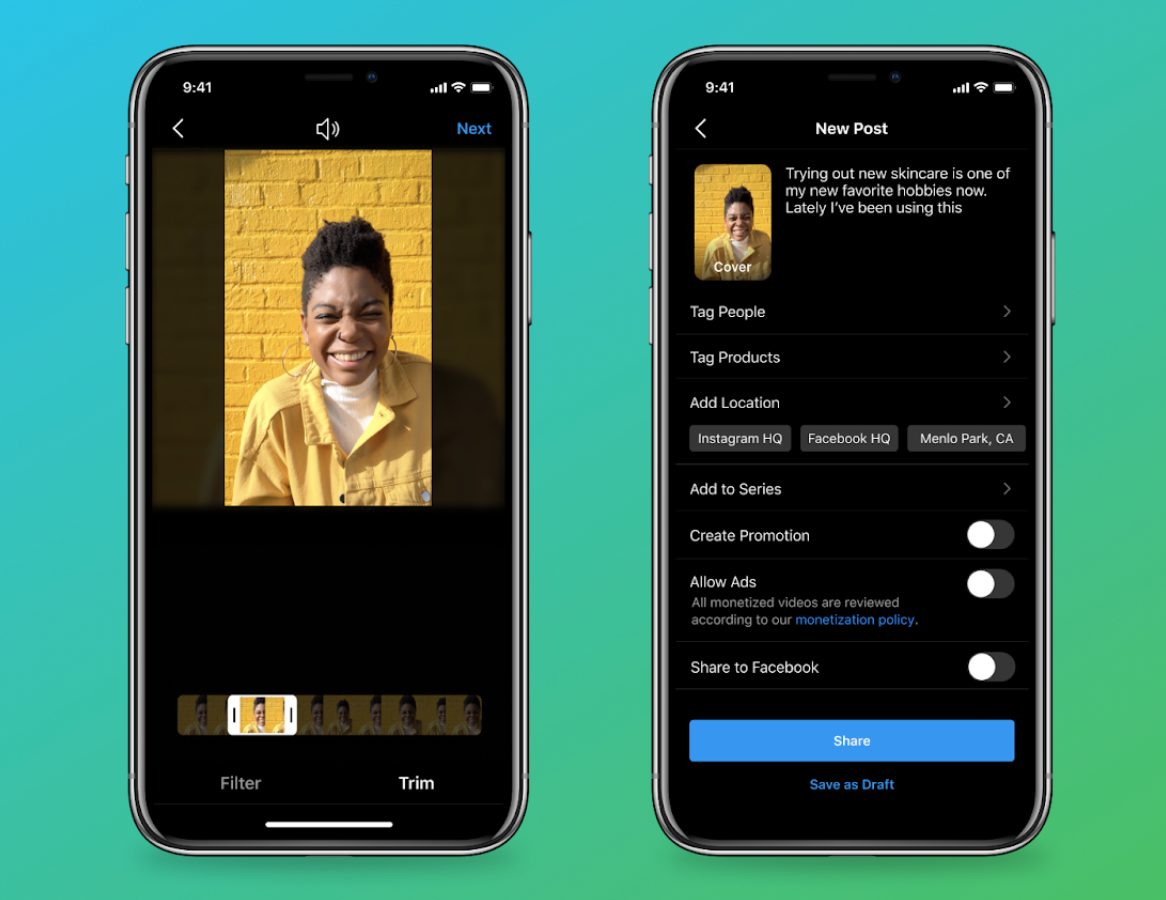 New videos, as well as all former IGTV and feed videos, can now be found under the video tab in your profile. With these changes, Instagram wanted to make it easier for people to discover new video content.
"We love that our creator community has embraced video as a key format to tell their stories, entertain, and connect with their audiences, and that's why we want to make it even simpler to create and discover videos on Instagram." – Instagram
Reels, however, are not affected by this change. The short video clips can still be found under the Reels tab.
Getting started with Instagram Video
There are several ways to share longer videos with your followers.
How to create content for Instagram Video
You can pre-record a video on your phone, edit it in advance, and then simply upload it to your profile. It is also possible to edit a pre-recorded video from your phone on Instagram before posting it.
Your other option is to record a new video directly in the app. By swiping right on your Instagram screen and choosing the video option, you can record a new video. Once you are finished with your recording, you can edit the video directly in the app, add filters and other effects, and then publish it.
How to create reels
Reels are short, engaging videos that allow you to get creative and add an element of fun to your video content. Users love reels because they are an easy way for them to discover new trends and ideas.
In order to publish a reel, select the Reels tab at the bottom of the screen and then tap the camera icon in the top right corner. First, choose your audio and then record your video. You can also upload a video from your phone's gallery.
In order to watch, trim, or delete a clip, tap "<." To add stickers, drawings, or text, tap ">." Once you are happy with your reel, tap "Cover" to change your cover photo and add a caption to your video. Now simply tap "Share" and "Done" to publish your reel.
Instagram's recommendations for getting the most out of Instagram Video
Instagram has put together several tips for businesses that can help you improve the quality of your videos and increase engagement.
Experiment with the new video tools
Instagram has added several new editing tools to Instagram Video, such as trimming, adding filters, and tagging people and locations. Instagram encourages you to experiment with the new features to make your videos more engaging.
Filters can enhance the look of your videos and make them stand out more. Adding location tags makes it easier for people to discover your videos. If, for example, you record a video in your neighborhood park, and other users are searching for content from that park, your video will appear in their search results, which is a great opportunity for your brand to get discovered by new people.
The same goes for tagging people. Tagging collaborators, partners, and influencers in your videos will make it easier for their followers to see your videos, and this increases the visibility of your brand.
Incorporate trends
For reels, Instagram recommends incorporating trends that you see in other reels but with your brand's unique twist. This is a great way for you to post popular content while at the same time giving your followers an idea what your brand is about.
Don't be afraid to play with humor, filters, creative text, and interesting audio features. Reels are meant for out-of-the box content, so be experimental and have fun with them!
Use video analytics
In order to make it easier for businesses to see how their videos are performing, Instagram has merged the feed post and video insights into one combined metrics platform. Use it!
The metrics platform will help you gain new insights. You can, for instance, find out which videos perform best, what type of content generates the most engagement, and how you can optimize your posting times.
Understanding how your audience responds to your videos will help you improve the quality and performance of your videos.
Share your videos as stories
In order to reach as many people as possible with your videos, Instagram recommends cross-posting video content through Stories.
Cross-posting video content on Instagram has several advantages. For one, it allows you to reach your community in multiple ways and meet your audience on their preferred channel. Some people love to look at a brand's stories but don't pay too much attention to the feed, while others prefer to browse through feeds. By cross-posting your content, you make sure that your message will reach as many people as possible.
Another advantage of cross-posts is that they help you save time. Instead of coming up with new content for every channel, you can re-purpose a video or reel for a story. By adding a catchy tag line or incorporating fun emojis in your videos, you can be efficient and create fun, new content at the same time.
You can save even more time by scheduling your stories in advance. With Storrito, for example, you can upload, edit, and schedule Instagram stories in just a few clicks. Storrito is a free web tool that you can use on any device, from any location. Storrito is a collaborative tool as well, so you can even work on posts together with other users. It makes planning your content so much easier and a lot more convenient. Try it out now!