If you want your business to succeed on Instagram, it's important to understand the different features of the platform. The better you know how Instagram works, the more you can use the site to make your business stand out from the pack. In this article, we'll take a closer look at Instagram Live.
Instagram Live is a video streaming feature that allows users to start a public live video for their followers. Instagram created Live as a way for creators and brands to connect with their audiences "in an authentic way."
Live videos on Instagram are not a one-way communication. One of the most exciting features is that streamers can receive comments and questions from viewers in real time.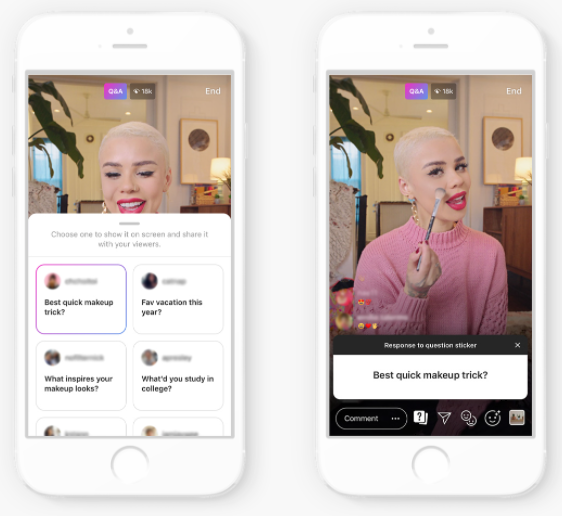 This makes Instagram Live a great way for brands to interact directly with their audience and build a strong, personal connection with their followers.
In March 2021, Instagram added Live Rooms to Instagram Live, giving users the ability to go live with up to three people. This is ideal for panel-like discussions, collaborations, interviews, and classes. Creators and brands have been using Live Rooms for rap battles, cooking classes, and beauty tutorials, and to bring attention to important social causes.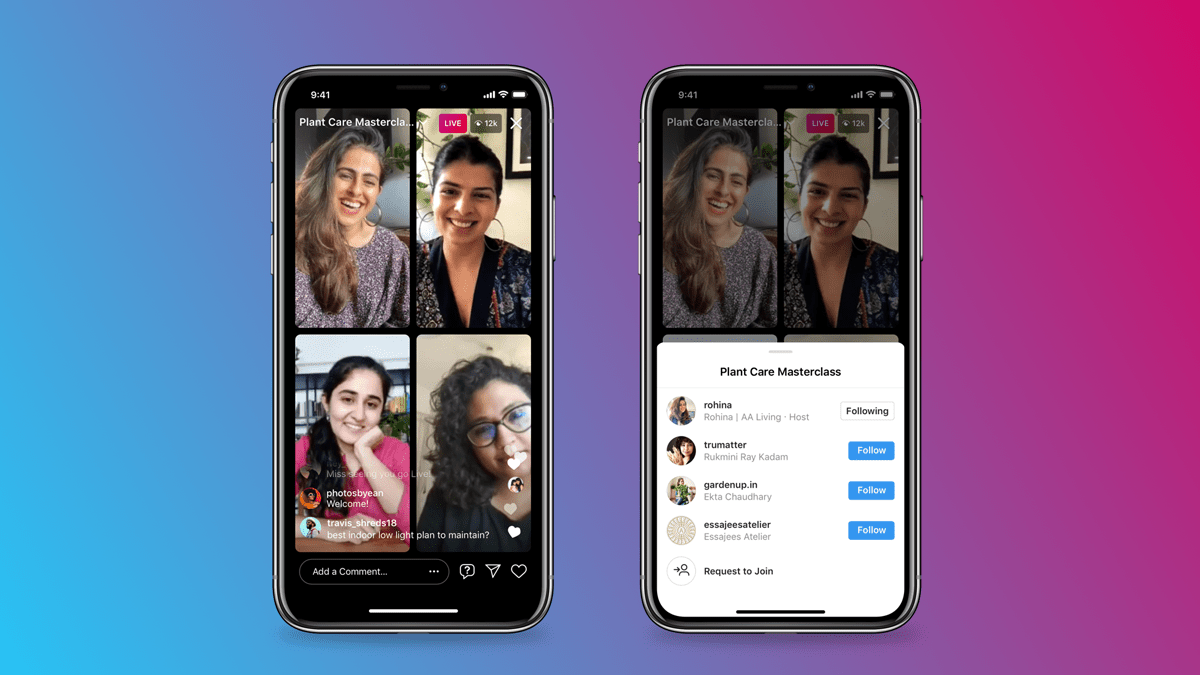 How to go live on Instagram
It only takes a few steps to start a live broadcast on Instagram.
Swipe right, then tap "Live" at the bottom of your screen.
Give your broadcast a name by tapping "Title" and adding a title.
Now simply tap the record button at the bottom. As soon as you go live, you will see how many viewers you have at the top of the screen. Their comments will appear at the bottom.
You can add comments by tapping "Comment" at the bottom of the screen. Tap "pin comment" if you want your viewers to see a specific message more easily.
Once you are done, simply tap "End" in the top right corner of your screen. Here, you can also choose to download the broadcast and save it to your phone or share it directly to your profile. Broadcasts that are saved in your Live Archive will not include comments, likes, or viewer counts.
Getting started with Instagram Live
As you can see, starting a live broadcast on Instagram is very easy. The challenge is to keep your audience engaged and offer them live content they can really connect with. So before you start a live stream, make sure that you know exactly what you will be talking about, so your video will have some structure to it that viewers can easily follow. Also, think about ways to include your audience, and encourage them to participate.
Especially when first starting out, it might be tempting to memorize a whole script. Don't! It will seem very rehearsed and unnatural. Of course, you don't have to improvise everything, but stick to a few bullet points to keep yourself on track, and try to speak as naturally as possible. Don't worry too much about making mistakes. Your fans understand that live content is spontaneous, and after all, nobody is perfect. In fact, this authentic, unscripted view of brands is exactly what fans love about Instagram Live. So just be yourself and have fun with it!
Instagram's recommendations for getting the most out of Instagram Live
Instagram has put together several tips for businesses that can help you improve the quality of your live broadcasts.
Before going live
Before going live, Instagram recommends testing the feature first on a test account to familiarize yourself with all the functionalities. This also gives you a chance to test your Wi-Fi in order to make sure that you have a fast and stable connection.
Instagram also points out how important it is to promote your live broadcasts. Let your followers know about them. For example, you can use the countdown sticker in Stories or post a notice on your feed.
Don't be discouraged if you don't have a lot of viewers during your first broadcast. Your followers might not have had time to watch it, or maybe they aren't used to you going live. In order to increase your audience, you could experiment with different broadcasting times and see what time attracts the most viewers. Instagram also suggests going live regularly at certain times a week, so your audience knows when they can look forward to your live videos.
While on Instagram Live
In order to reach more people, Instagram encourages businesses to go live with a business partner, a collaborator, a creator, or a fan.
By using the feature "Live With," your partner's followers will automatically get a notification about the broadcast, which is a great way to notify more people and get more viewers.
Make sure to keep your audience engaged by hosting a Q & A session, or by answering their comments. Instagram recommends turning on the comment moderation feature for a smoother user experience.
After your live broadcast
After a live broadcast, the broadcast automatically appears in your Stories for 24 hours. However, Instagram points out that you can also save your broadcast to your Instagram videos so that fans will be able to watch it later.
Make sure to turn on the "Post a Preview" option so that a preview will be shared to your feed and profile. It'll give your fans a sneak peek at your video and make them curious to watch the whole broadcast.
Repurpose your live videos for more exposure
As mentioned, after ending your live video, it will automatically appear on Instagram Stories, where it will be accessible for 24 hours. Use this time period to let your fans know that they can still watch your video, in case they missed the live broadcast.
Depending on your live stream, it might also make sense to repurpose the content. You could, for example, edit the video and turn it into a Q & A session for your Instagram Stories or save it to your story highlights.
Sometimes, live videos also make for great long-term content that you can then post to your regular feed. Let's say you were taking viewers behind-the-scenes at your company. You could put together a few highlight moments from your live session and share them as a short video on your feed to give your followers an authentic view of your brand.
Users love live content for its spontaneous and authentic nature. By repurposing live content, you can take the positive buzz you created around your brand with a live video and expand it even further. Repurposing will also allow users to access the content later if they weren't able to see the live stream. Our tip: if you repurpose live videos, think about making them more accessible, for example by adding closed captions to allow more people to view your content.
Save time by scheduling your content
Repurposing content from your live broadcasts is not only an easy way to create new content for your brand on Instagram, it is also very efficient because you don't have to create posts from scratch. And you can save even more time and effort if you schedule your content.
With Storrito, for example, you can upload, edit and schedule Instagram stories in just a few clicks. Storrito is a free web tool that you can use on any device, from any location. Storrito is a collaborative tool, so you can even work on posts together with other users. It makes planning your content so much easier and a lot more convenient. Try it out now!