You might have noticed that you can not only use Instagram's built-in face filters on Instagram Stories, but also create your own. In this article, we'll explore how you can create custom filters for your stories, and how this can benefit your brand.
Interactive features such as polls, question stickers, or quizzes make your Instagram Stories livelier and lead to more interaction with your followers. The same is true for using Instagram's AR face filters. They add more fun and personality to your stories, and they get people talking about your brand.
What are AR filters on Instagram Stories?
Augmented Reality (AR) sounds fancy, but Instagram has been using AR filters since it first introduced the effects in 2017.
Unlike the regular photo filters that you can add to your posts in your feed, AR filters involve computer-generated effects that are layered on top of real-life images and videos. For example, if you take a selfie, the puppy dog filter will add a dog's ears and nose on top of your face.
You can find many AR filters for Instagram Stories already included in the app. Check out our in-depth guide to see how you can use the app's filters to make your content stand out more and boost your brand.
So, while there are already a lot of built-in filters to choose from, Instagram took the technology one step further in 2019 when it introduced the Spark AR Studio where users can create their own custom AR filters. This gives you a unique opportunity to create custom filters that really fit your brand.
Leverage custom AR filters for your brand
There are several ways in which you can use your own custom AR filters to benefit your brand on Instagram.
Show personality
Creating your very own AR filters will help you show what your brand is really about. Let's say your brand is very environmentally conscious. Then you could choose filters that reflect a natural look.
Or, enhance your tech brand by creating sleek and futuristic filters. Custom AR filters really allow you to let the personality of your brand shine through so you can stand out from your competitors.
Get your audience engaged
Creating your very own filters will definitely make your stories look unique, which will therefore increase your visibility. As you know, with so many other brands competing for viewers' attention on Instagram, the key is to find ways to stand out.
If your filters make your stories stand out more, it will get more people talking about your brand and increase engagement.
Increase brand recognition
Colors, lightning, atmosphere – there are so many things that go into creating a brand's visual message. This is even more reason to make sure that the look of your brand on Instagram reflects what you are really about.
Custom AR filters can help with this, as you can fine-tune them to match your brand's visual language. This will make it easier for people to recognize your brand.
How to create your own custom AR filters with Spark AR Studio
Using the Spark AR Studio is pretty intuitive, and once you get started it is very easy to create your own AR filters. It only takes a few steps to set it up.
Download Spark AR Studio.
Choose an existing template or create a filter from scratch.
Let's say you go with a template. Then you can use the "viewport" to create your filter.
Now you can upload assets from the AR Library into your template, such as animations or 3D effects.
Edit the chosen filter with the Scene panel until you achieve the desired effect. You can change light effects, how the image moves, or how it interacts with real objects in a picture or video.
Preview the filter by testing it in the Spark AR Player app to see how it will look in Instagram Stories.
Now you can go ahead and publish your filter by tapping on the upload button (beneath the "test your device" button). The Spark AR Studio will review your filter first to make sure it's in accordance with its guidelines. Once that process is finished, you can go ahead and use your own custom AR filter in your Instagram stories.
How brands are using their own filters on Instagram Stories
Creating your own filters opens up new possibilities for enhancing your content. So let's look at a few examples of how some brands are using their own filters to stand out.
Coca-Cola Poland, for example, is not afraid to get playful with custom face filters. For instance, they have created a filter that makes it look like the user is drinking right from an animated Coca-Cola can above their head.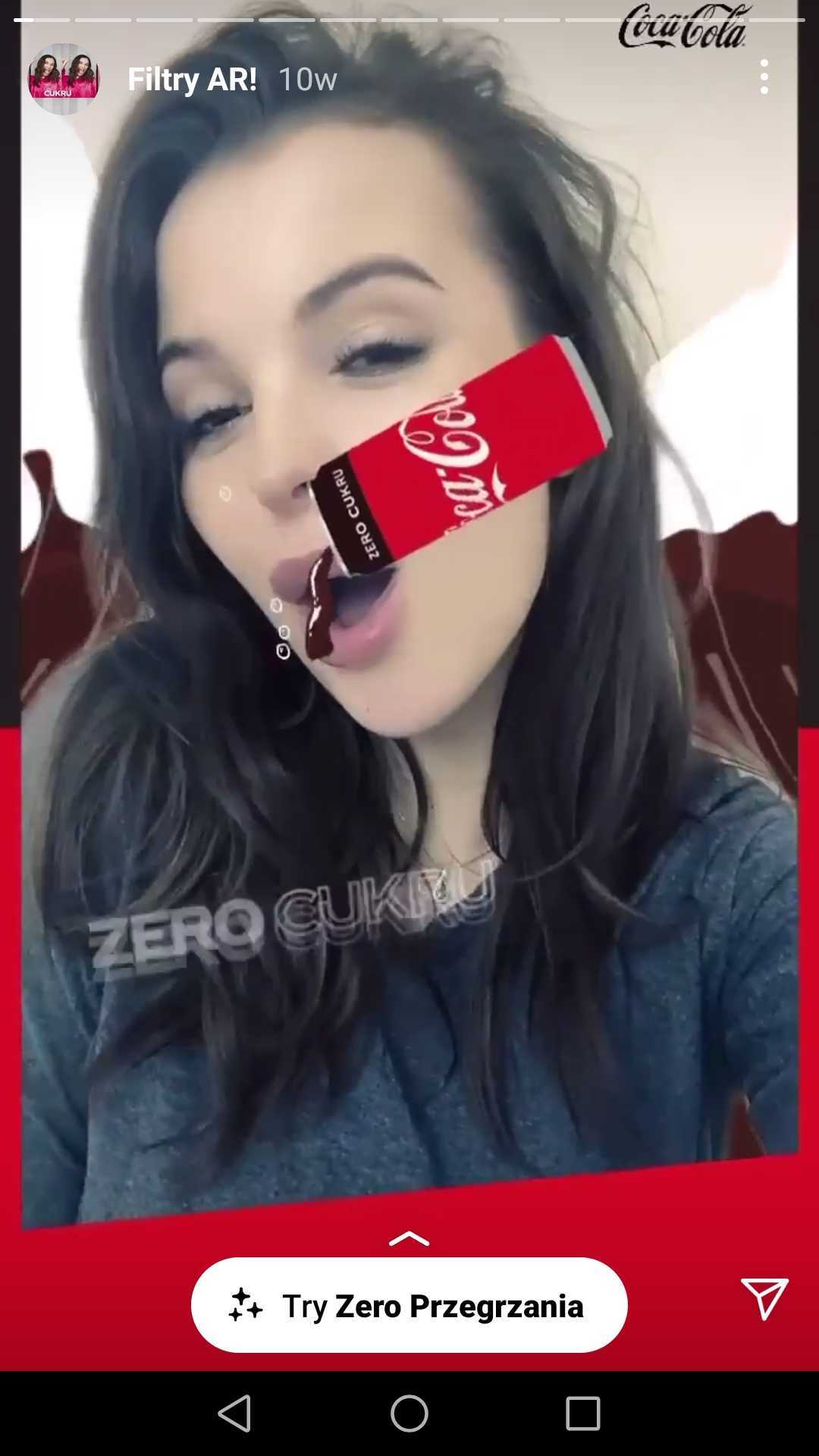 The luxury fashion brand Gucci, on the other hand, creates very elaborate and colorful filters that enhance the design of their clothes.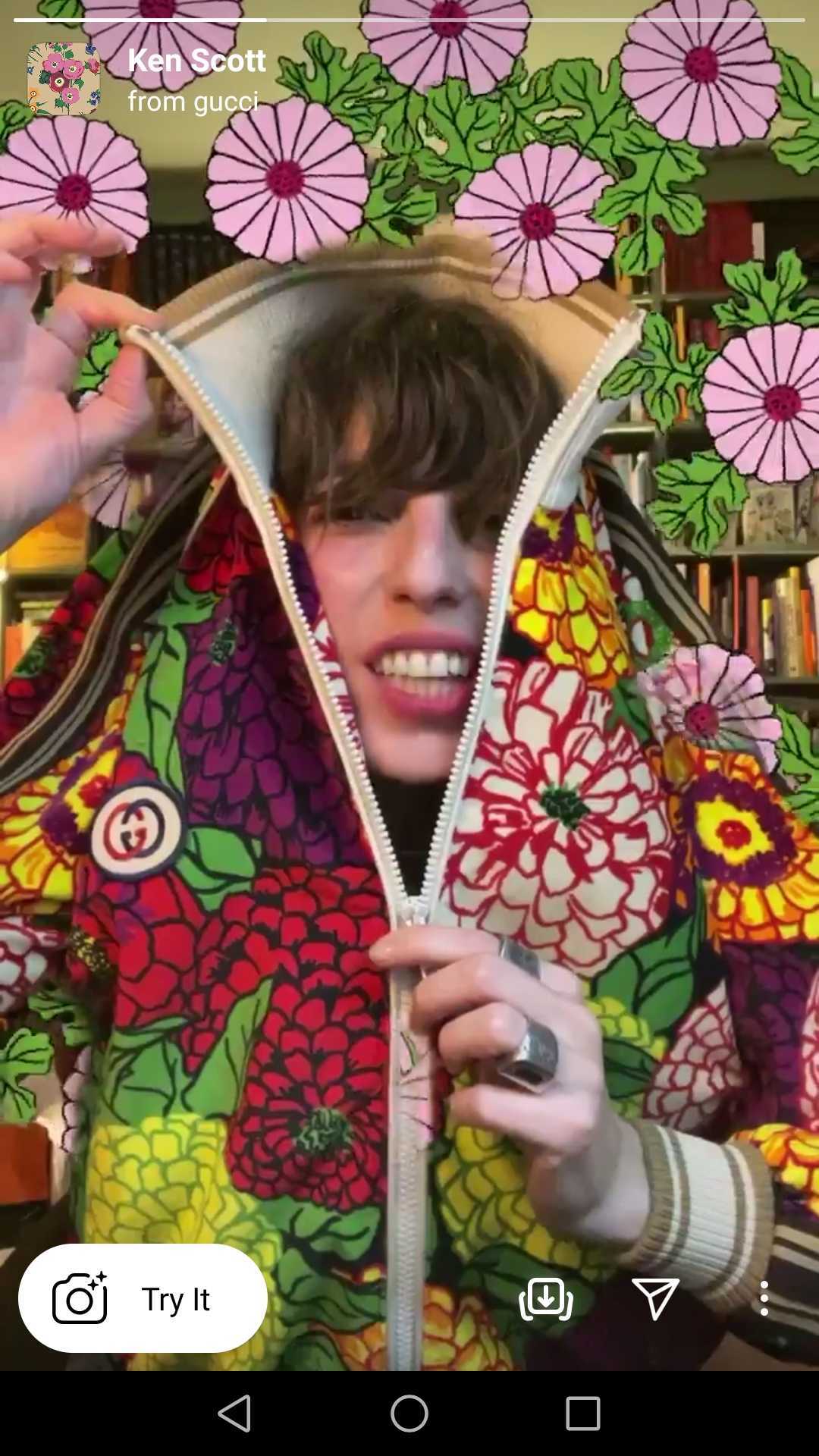 The human resource account of the car company Daimler is also pretty creative when it comes to developing their own AR filters. In their case, Daimler Career uses science-fiction inspired 3D effects to show how someone's career at Daimler can take off.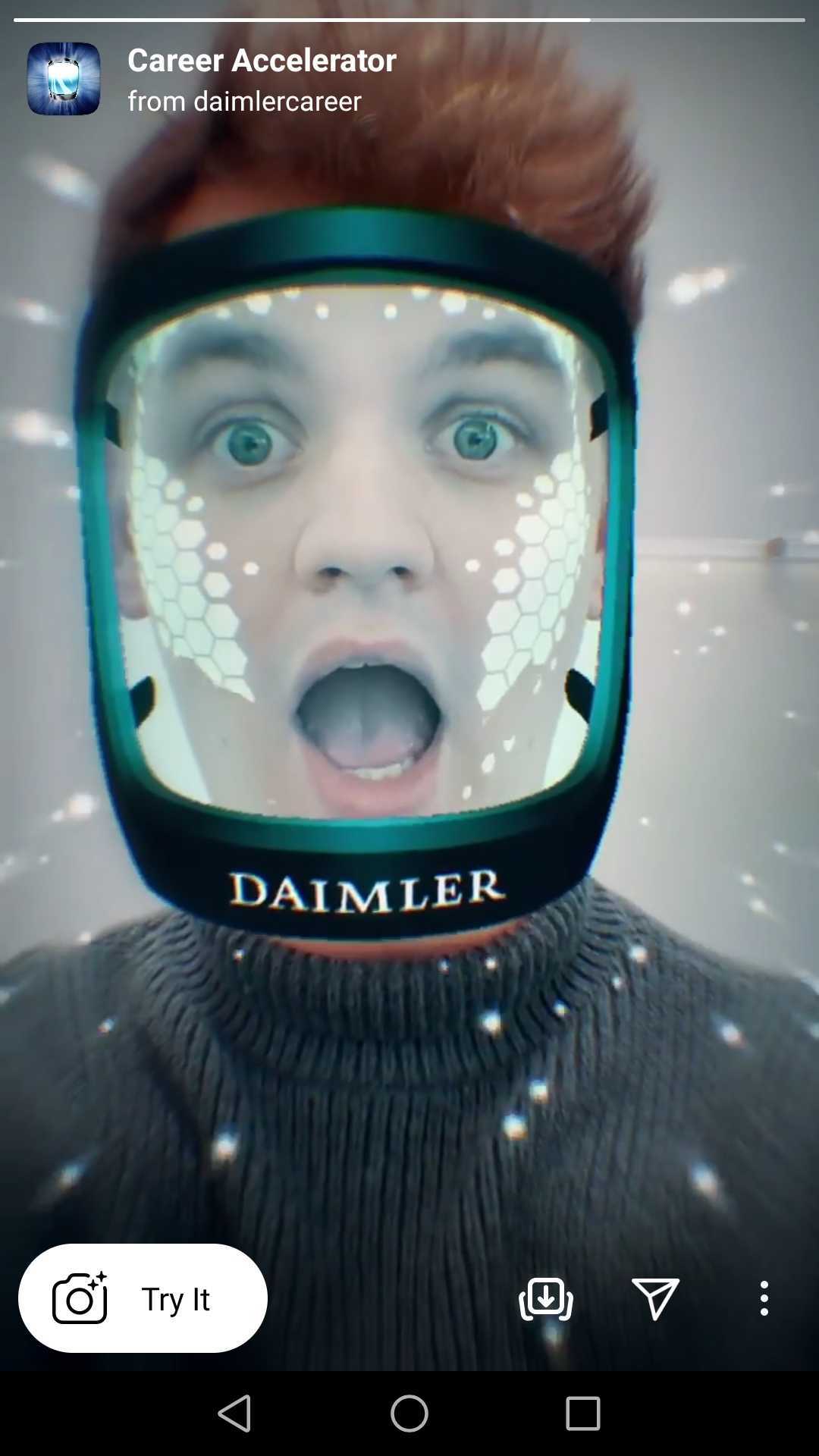 It's a clever way of making working at Daimler seem fun, appealing to a young audience, and at the same time promoting Daimler's future-forward brand message.
Even the New York Times, which typically aims for an older target audience, are not afraid to experiment with its own filters on Instagram Stories. While they avoid filters when it comes to reporting the news, they have created their own filters to promote their famous crossword puzzle.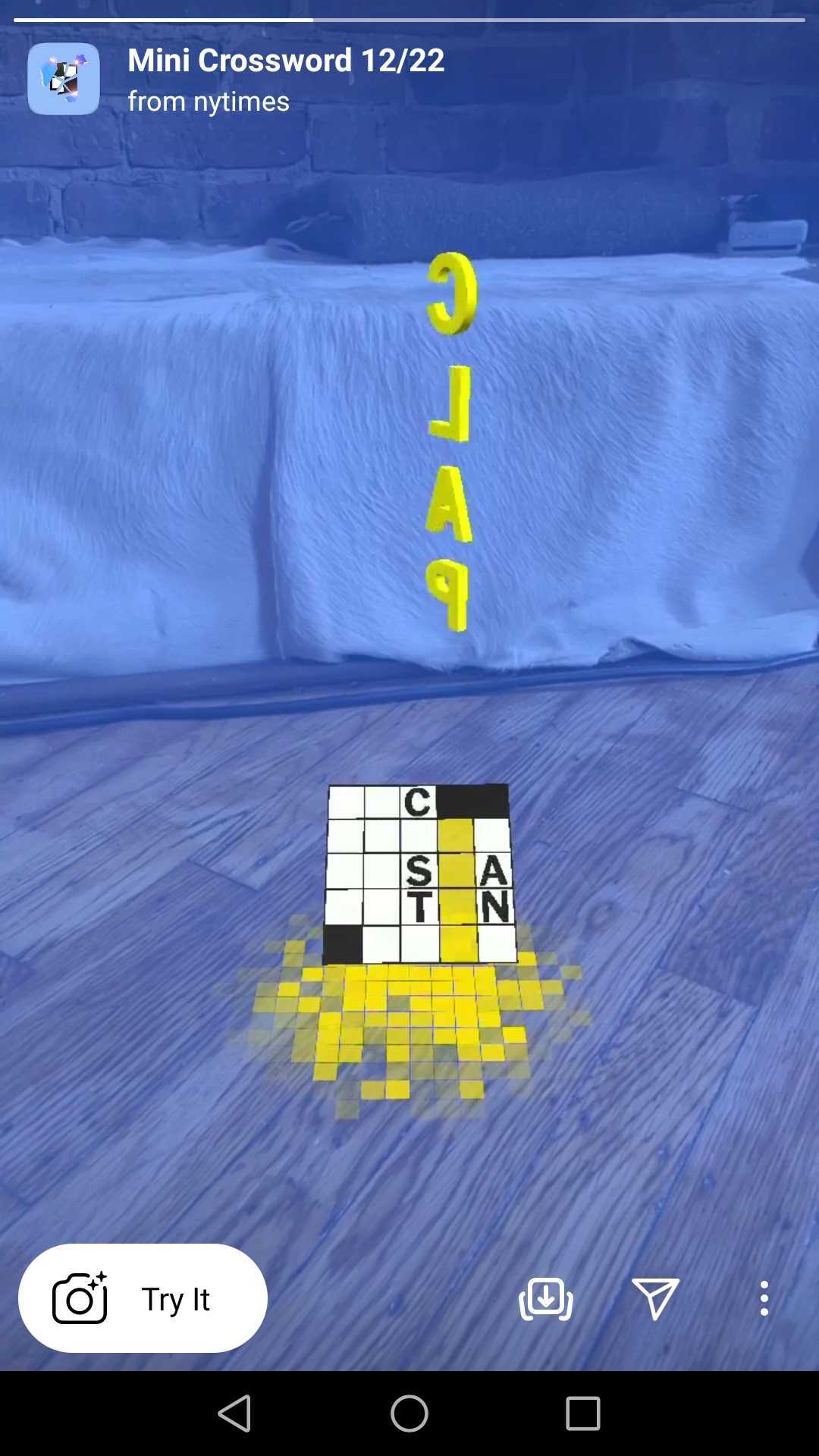 This is a great example of how even more serious brands can use custom AR filters to promote specific products that can benefit from the fun factor that the filters add to a story.
Before you get started…
As you can see, there are many ways to let your creativity flow with custom AR filters on Instagram Stories. Before you get started though, make sure you have a very clear brand strategy for using custom AR filters.
Work out the best visual representation for your brand, then translate it into AR filters that best reflect it.
Decide in which contexts AR filters make sense for your brand, and where it might be better to go filter-less.
Keep in mind that there is a time and a place for face filters, and there are also occasions where it is better not to use them. You might decide not to use them at all, or you might want to stick to more subtle light and color effects. After all, the best filter strategy for Instagram Stories is whichever strategy best suits your brand.
Come up with a plan
So take a moment to think about your brand's best approach to custom AR filters and work out a plan. It might make sense to set up a monthly schedule for all of your Instagram stories and then decide where you want to integrate filter effects.
Since it is very difficult to plan your Instagram posts on the app, and the app won't even allow you to schedule stories, it can be extremely helpful to use a planning tool like Storrito to create your Instagram Stories.
Storrito is an online tool for creating and editing your Instagram stories while still using the same features you know from the Instagram app. However, since Storrito works on different devices, you are not limited to creating your stories on a smartphone, but can also use the bigger screen on your laptop or desktop PC.
You can also connect multiple users to your Storrito account, so a whole team can work on creating and editing content together. And the best part: you can schedule your stories, which gives you more flexibility for your social media work, and makes it easier for you to plan which content you will publish when.